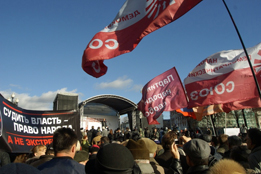 Russians angry with the unfairness of upcoming parliamentary elections rallied in Moscow on Saturday calling for their fellow citizens to "put an end to the thieving government," Kasparov.ru reports.
The event, organized by the unregistered People's Freedom Party (Parnas), was attended by about 1500 people, including representatives of the opposition groups Solidarity, the United Civil Front, the Other Russia party, the Left Front, the Russian People's Democratic Union, and numerous other civil and political organizations.
Speakers included Parnas leaders Vladimir Ryzhkov, Boris Nemtsov and Mikhail Kasyanov, Other Russia party leader Eduard Limonov, Moscow United Civil Front leader Lolita Tsariya and Solidarity activists Ilya Yashin and Anastasia Rybachenko, as well as rap musician Dino MC.
Speaking as the actual MC, Vladimir Ryzhkov said the rally marked the beginning of a national campaign: "We have five weeks until the elections, and in that time we must achieve some results. We have two tasks. The first is to not give a single vote to United Russia, and the second is to catch anyone falsifying [electoral results]."
According to Ryzhkov, the leading party's real ratings are much lower than they would like people to think, with the actual figure hovering below 40 percent approval.
In his turn, Eduard Limonov put the blame for the current situation on the Russian intelligentsia. He called on famous writers such as Victor Pelevin, Vladimir Sorokin, and Valentin Rasputin to come out and join the oppositionists in protests on the December 4 election day.
Despite disagreements within the opposition as to what mode of action to take on election day (options include voting against every candidate, voting for candidates from any party other than United Russia or staging a boycott), all speakers present agreed that the most important thing was to stand together against United Russia.