All Posts Tagged With: "election boycott"

Garry Kasparov accused the Yabloko party of being financed by the Kremlin and only pretending to be a real opposition group during a debate on upcoming parliamentary elections over the weekend.
Nov 28, 2011 |
Continued

About 1500 people rallied in Moscow on Saturday against upcoming parliamentary elections that are all but guaranteed to give fraudulent wins to Putin's United Russia party.
Oct 22, 2011 |
Continued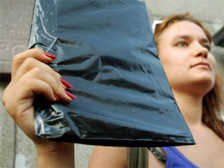 Four activists were arrested at Wednesday's Day of Wrath rallly, after opposition protesters attempted to deliver their list of demands to the presidential administration building.
Oct 12, 2011 |
Continued

A group of prominent Russian oppositionists have joined together to sign a declaration pledging to boycott upcoming elections to the State Duma, which the majority of Russians believe will not be free or fair.
Oct 5, 2011 |
Continued