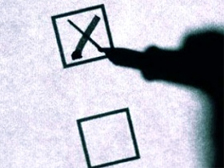 Representatives of the Russian opposition have joined together to sign a declaration pledging to boycott upcoming State Duma elections, Kasparov.ru reports.
The decision was announced at a press conference on Wednesday, which the oppositionists used to discuss cooperative tactics and strategies. "Under the current conditions, we feel that the December 4 parliamentary elections will be illegitimate," says the declaration. "We call on citizens to boycott these shameful 'elections' in any rational way."
"We call on all honest citizens to come out on December 4 to protests that will be held on the central squares of Russia's cities and villages," the declaration goes on.
Among the signees to the document were Solidarity co-leader Garry Kasparov, the organization's political council organizer Denis Bilunov, Left Front leader Sergei Udaltsov, Islamic Committee of Russia founder Geydar Dzhemal, and leading activists Yury Mukhin, Anatoly Baranov, and Aleksandr Krasnov.
Garry Kasparov said that Russians must ignore the elections and begin building a parallel political reality using contemporary technology, referring to Leonid Volkov's internet project "Democracy 2."
Aleksandr Krasnov proposed using December 4 not as an election day, but as the beginning of an act of civil disobedience that would end with the resignation of the ruling authorities. He insisted that the creation of a new political reality is only possible once the current one has been destroyed.
To express their discontent with the illegitimacy of the elections, Krasnov noted that voters can also de-register to strip themselves of voting rights or obtain, but not use, absentee ballots (which in Russia are available from polling stations) to symbolize that they will not be participating.
Anatoly Baranov argued that the only way to carry out the boycott is for every citizen to take their absentee ballot and bring it out to a protest.
A recent survey carried out by the Levada Center showed that more than half of Russians don't believe that the upcoming elections will be free or fair. Fifty-three percent of respondents said they were certain that the December 4 proceedings will be no more than an imitation of an election and that the government determines who will hold seats in the State Duma.