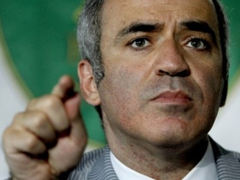 The Yabloko party has the potential to gain seats in the State Duma in Russia's parliamentary elections next weekend, legitimizing the decision to have Prime Minister Vladimir Putin run for president, says United Civil Front leader Garry Kasparov.
The opposition leader made the remarks during a debate on Saturday with Yabloko bureau member Aleksei Melnikov on whether oppositionists should boycott or participate in the elections.
During the debate, Kasparov accused Yabloko of cooperating with the Kremlin and not acting as a truly oppositionist party.
"Just like [Communist Party leader Gennady] Zyuganov and [LDPR leader Vladimir] Zhirinovsky, you pretend that you're an alternative. The Kremlin has financed you for eight years. The Kremlin agrees to your candidate lists. You know all of this," Kasparov said.
In response to the question of where Yabloko gets its funding, Melnikov insisted that the party has "one source – citizens and business. And we've done this work for many years. Nine percent is from business donations," he said.
Melnikov called on Russians to go out to the polls on the December 4 election day, while Kasparov called on potential voters to go out into the streets and protest against the fact that the elections are sure to be neither free nor fair.
Kasparov was among a group of leading oppositionists to sign a declaration in early October to boycott the Duma elections. As the declaration reads: "Under the current conditions, we feel that the December 4 parliamentary elections will be illegitimate. We call on citizens to boycott these shameful 'elections' in any rational way."