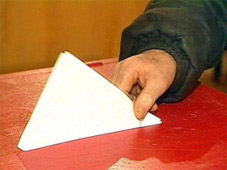 Experts from the Russian electoral watchdog association Golos are reporting a sharp rise in violations during regional elections across Russia this past Sunday, Kasparov.ru reports.
According to Andrei Buzin, head of Golos's monitoring branch, the organization recorded 720 cases of violations for the March 13 elections, in which Prime Minister Vladimir Putin's United Russia party dominated in all 12 regions where voting took place.
There were three types of violations, Buzin explained. The first has to do with the tallying of votes and the removal of electoral observers, as was noted in the cities of Syktyvkar, Vladimir, Adygea, and the Kirov and Kaliningrad regions. There were also cases of falsified voting documents, where people vote for other voters, and violations of remote and absentee ballot procedures.
Buzin attributed the rise in violations with the upcoming campaign for federal elections to the State Duma.
"This is about checking our public's reaction before the federal elections," he said.
It is worth noting that Russia's Central Electoral Commission only recorded 90 complaints of violations.
The head of Golos's analytical branch, Aleksandr Kynev, said the rise in violations is a sign of a general fall in United Russia's ratings.
Kynev said the fall also explains the widespread use of propaganda campaigns to bash opposition candidates. Such campaigns and violations occur when local authorities and party branches are unable to get the number of votes ordered by the ruling party through other means, he explained.
The reasoning of the local authorities is that "if we can't raise our ratings, we'll damage other ones," Kynev said.
Despite the negative campaigning, the number of voters across Russia who decided to cast their vote for an opposition candidate appears to be on the rise. The Communist Party received more votes than usual in a majority of voting regions, and A Just Russia saw improvements in the central regions.
"Despite generally very difficult circumstances and very harsh pressure, real protest is growing and the people are ready to vote for a semblance of an alternative, even when there isn't one," Kynev said.