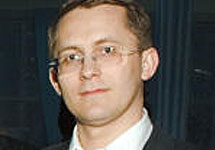 A new state-sponsored television channel aimed at Russian youth may soon replace 2×2, a channel under siege for broadcasting cartoons deemed offensive. As Ekho Moskvy radio reports, 2×2 will face a hearing to renew its broadcast license in coming weeks, and at least one Russian politician feels this may be an opportunity for the state to take a leading hand in children's programming.
Pavel Tarakanov, a deputy who serves as chairman of the Committee for Youth Affairs in Russia's lower house of Parliament, the State Duma, later retracted his statements.
Earlier, Tarakanov said that "if the 2×2 channel's broadcast license is not renewed, we have a new youth project, which could lay claim to this [broadcast] frequency." He noted that such a project was practically completed, and would reflect "the state position in the sphere of youth policy." Tarakanov clarified that the new channel "is not trying to claim the 2×2 channel's frequency." "This project is being prepared, and we expect to launch it by next year—the year of youth. It makes no difference on what frequency it will appear."
"It is essential to formulate the young generation of 21st century Russians, who want to live in a civilized country and be proud of it. That's why we need our own media mouthpiece that is accessible to a maximum audience."
2×2's press-service meanwhile declined to officially comment on Tarakanov's statements, according to the Sobkor®ru news agency. "It's nice to hear that he retracted his own words," a representative said.
The issue of 2×2's license will be addressed on September 24th at a closed meeting of the Federal Competition Committee. The Interfax news agency reports that Rossvyazkomnadzor (the Federal Service on Supervision of Communications and the Mass Media), which oversees communications, will also have a role in renewing 2×2's license.
In August, Moscow prosecutors issued a warning to 2×2, and sent a corresponding presentation to Russian media regulators, alleging that 12 animated series broadcast on the channel were harmful to children's mental health. These allegations were based on an expert investigation, which also found that an episode of South Park screened on the channel bore signs of extremism.
The channel has petitioned the Moscow Appeals Court, and will try to contest the legality of the warning. Representatives of 2×2 said that it presents itself as a channel for adults, and that it airs notices stating this at the start of each show. 2×2's leadership did not exclude the possibility that attacks on the channel were being carried out on behalf of a competing business interest, seeing how its broadcast license expires in mid-October. 2×2 has aired the cartoons in question for over a year.
Starting on September 22nd, the channel bowed to pressure and removed 12 animated series from its lineup. Banned cartoons deemed harmful include the Simpsons, Family Guy, Lenore the Cute Little Dead Girl, and Angry Kid.