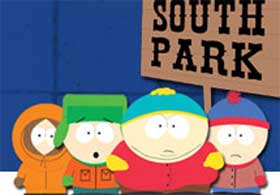 Killing Kenny is apparently against the law, and the popular South Park cartoon series appears set to become the latest victim of Russia's crackdown on "extremism."
As the Interfax news agency reports, Moscow city prosecutors have filed a motion with the Basmanny regional court after finding that an episode of the show broadcast in January "bore signs of extremist activity." Simultaneously, the channel that broadcasts the award-winning American cartoon, 2×2, has been issued a warning for disseminating extremist materials.
An investigation conducted by prosecutors found fault with an episode titled "Mr. Hankey's Christmas Special," which went on air on January 9th. Experts found that the show "humiliates the honor and dignity of Christians and Muslims, offends the feeling of believers regardless of their denomination, and can provoke interethnic conflict, up to and including extremist acts."
The report was instigated under a controversial 2006 law, which broadened the definition of extremism. Government critics have said the law allows the state to easily limit freedom of speech. Since its inception, it has been used to target non-profit organizations, online newspapers, bloggers, and even a hobbyist who rebuilds World War II era tanks.
South Park, which debuted in 1997, has continually been at the center of controversy in the US over its coverage of adult themes, including racism, religion, and celebrity culture. In Russia, a dubbed version of the show has ignited angry protest from religious groups. In March, the heads of protestant churches in Russia appealed to Yury Chaika, the country's prosecutor-general, to repeal 2×2's broadcast license.
The Prosecutor-General's Office has now apparently heeded the call to reprimand 2×2, which broadcasts primarily animated content in Moscow and St. Petersburg. The Office filed a presentation today to Rossvyazokhrankultura, the nation's media regulating body, after concluding that 2×2 repeatedly broadcast material that broke a law meant to protect children.
A panel of experts examined the 12 animated series shown on the channel, including 118 films. Among them are the Simpsons, Family Guy (translated into Russian as the Griffins), Metalocalypse, Drawn Together (translated into Russian as Multreality), Lenore the Cute Little Dead Girl, Angry Kid, and others.
The experts found that the cartoons do not correspond to the legal requirements for protecting children's moral and mental development and protecting their health. The cartoons "promote violence and cruelty, pornography, anti-social behavior, abound with scenes of mayhem, the infliction of physical and ethical suffering, and are aimed at invoking fear, panic and terror in children," the Office said in a statement (Rus).
"Practically all the cartoons exploit the topic of suicide, and characters demonstrate readiness to risk their lives for the sake of deriving extreme sensations."
A representative of 2×2 could not be immediately reached for comment.