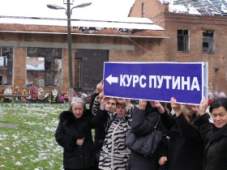 On January 9th, prosecutors in the Russian city of Nazran laid charges of extremism on Golos Beslana (Voice of Beslan), a support organization for victims and relatives of the tragic 2004 terrorist takeover of a Beslan school.  The group has been fiercely critical of methods used by the authorities during the hostage crisis, where masked gunmen took over 1,000 people prisoner.  As result of a far from perfect rescue operation, more than 300 people, half of them children, lost their lives.
Golos Beslana is led by women who lost loved ones during the attack, and has led a number of campaigns calling for further investigation of the incident.  They have accused authorities, including President Vladimir Putin, of dodging justice, as well as leading a cover-up.   The latest charges of extremism stem from a document released by the group in 2005, which prosecutors say unfairly accuses Putin of aiding and abetting to terrorism, as well as becoming a guarantor to criminals. 
Ella Kesayeva, a co-chair of the organization, told Reuters:
"It is self-evident they are carrying out an order from Moscow … They may now declare our organisation an extremist one and shut it down altogether."
…
"We are a thorn in the flesh for authorities because we are holding an investigation of our own and point to the culprits of the tragedy, including top-level officials."
Several prominent international rights groups have spoken up for Golos Beslana.  Most recently, the Dublin-based Front Line Defenders, which holds U2 frontman Bono, the Dalai Lama, and archbishop Desmond Tutu on its Leadership Council, released a stament in support for the organization.
The trial is set to begin on January 14th, 2008.