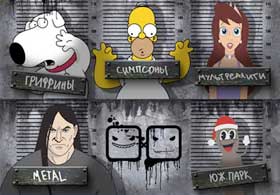 The Simpsons, Family Guy, South Park, and 9 other animated series are getting the boot in Russia. According to its website(Rus), the Russian 2×2 television channel has bowed to state pressure, and will pull a total of 12 cartoons from its lineup.
State prosecutors, following up on requests by Russian religious fundamentalist groups, had deemed materials broadcast on the channel to be harmful to children and extremist.
Roman Sarkisov, 2×2's general director, announced that the channel would be appealing complaints against them through the courts. Sarkisov said that broadcasts of the programs in question will be cut as of September 22nd, and will not resume before a court decision is reached.
"Starting next week, we will remove 12 animated series that have grievances against them," Sarkisov said Friday. "Instead of them, we will show other series that are already on the channel, and that no one has found anything wrong with yet."
The move marked a change of tone for the channel, which had said last week that it had no plans to change any of its lineup.
On September 8th, the Prosecutor General's Office released the result of an expert investigation, which found that 12 series shown by the channel broke a law meant to protect children. The cartoons in question include the Simpsons, Family Guy (translated into Russian as the Griffins), Metalocalypse, Drawn Together (translated into Russian as Multreality), Lenore the Cute Little Dead Girl, Angry Kid, and others.
The cartoons "promote violence and cruelty, pornography, anti-social behavior, abound with scenes of mayhem, the infliction of physical and ethical suffering, and are aimed at invoking fear, panic and terror in children," the Office said in a statement (Rus).
"Practically all the cartoons exploit the topic of suicide, and characters demonstrate readiness to risk their lives for the sake of deriving extreme sensations."
The channel has responded to the charges by gathering signatures in support of its broadcasts. The management has also received official approval to hold several demonstrations(Rus), and will hold a free concert to raise awareness of the issue in St. Petersburg on September 22nd.