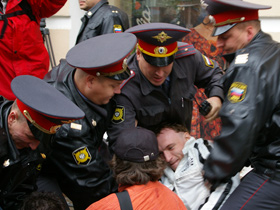 Unknown instigators are planning a fictitious "meeting for the defense of the rights of sexual minorities" in Moscow, in an apparent attempt to interfere with an opposition demonstration. The Novye Izvestiya newspaper picked up the story after one of its journalists discovered a strange ad on the student forum of one Moscow college. As the paper reported on April 30th, the classified listed a casting call for participants of the "meeting," scheduled for May 6th, and offered 2,500 rubles ($108 or €69 ) for young men willing to pose as gay activists for two hours.
The newspaper's journalist, who responded to the ad and attended the casting call, was told that the May 6th event was a gay pride parade. Apparently, the organizers, who only gave their first names, wanted to disrupt a March of Dissent organized by the Russian opposition for the same day.
"Roman," one of those leading the casting call, told the assembled that "this will be an action for all those that don't agree with something (*see note below). Among the others, sexual minorities will announce their own protest. That's why we need a group of 10 people, who will be able to act them out well. No one will force you to kiss each other or dance around in flamboyant costumes. It will be enough to walk through the street, smiling, with placards, in full view of everyone."
The organizer noted that the role required an appropriate style of dress, and offered to provide chosen participants with "tight jeans and flowery shirts," clip-on jewelry and make up.
Leaders of the Lesbian, Gay, Bisexual and Transgender (LGBT) movement were not amused. Nikolai Alekseyev, who has tried to organize gay rights marches in Moscow, commented on the news to the Sobkor®ru news agency. "Evidently, the authorities want to kill two birds with one stone—to discredit both us and the "dissenters." We are not planning any actions for May 6th and never pay activists to participate in our events. The LGBT community has no relation to these provocations."
Previous attempts to stage a pride parade in Moscow have been systematically banned by the authorities. Representatives of the mayor's office have said they will respond in a "decisive and uncompromising manner" if LGBT activists took to the streets. Still, the rights movement has vowed to challenge the decision in court and hold unsanctioned events throughout the month of May.
The opposition in Russia has repeatedly accused authorities and members of pro-Kremlin youth movements of acting as provocateurs during their demonstrations. Paid "protesters" have been caught holding outrageous placards, or acting in a way that allows police to shut down the event.
*Translation note: the wording here is very similar to "March of Dissent" in Russian (не согласен vs марш несогласных)