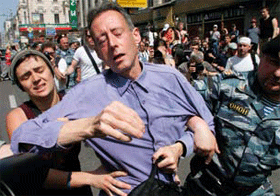 For the third year in a row, the Moscow mayor's office has decided to ban any attempts at a gay rights parade in the Russian capital. Activists had planned to hold gatherings on May 1st and 2nd, during a holiday when the city celebrates Spring and Labor.
The press-service of the Mayor and the city government issued a harsh rebuke to the parade's planners, promising to "thwart attempts to hold such events in a decisive and uncompromising manner, because the absolute majority of [Russian] society does not accept gay people's lifestyle or their philosophy." The statement went on to explain that "gay people want to deliberately bring discord," by choosing May 1st to hold their gathering, and that "they are trying to impose their customs and principles on society." The statement did not exclude the use of physical force to stop marchers. In a previous year, Moscow Mayor Yury Luzhkov called pride parades "Satanic."
Despite the ban, gay and lesbian rights activists pledged to march during the entire month of May, and express their Constitutional right to public assembly. Nikolai Alekseyev, one of the movement's leaders, told the Sobkor®ru news agency that the group would also continue to challenge the ban in court. Previous hearings have failed to overturn a city-wide ban on Gay pride parades. "If the Moscow authorities had agreed to compromise, we would have limited ourselves to holding one event," he said. Instead, he said the movement will now register 5 marches across the city for each day in May, in an effort to show the world that Russian authorities would not let homosexuals express themselves anywhere at any time.
According to Alekseyev, some 150 people were originally planning to march. He added that his group was in talks with delegates of the European Parliament, who had come to Russia to express their support in past years.
Homosexuality was only legalized in Russian in 2003, and remains a taboo topic for many Russians. Blatant discrimination against gays and lesbians is common, and past gay rights demonstrations have been attacked by ultra-nationalist groups. The Russian Orthodox Church has also spoken out against homosexuality, pledging to prevent any gay events in the country.