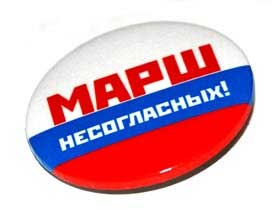 On May 6th, the Other Russia coalition will stage an opposition demonstration, known as a March of Dissent, in Moscow. Organizers filed the necessary paperwork to the Moscow authorities on April 21st, and are now waiting to receive their permit.
The location of the protest, expected to draw some 2000 demonstrators, is by the Griboyedov monument, at the Chistye Prudy metro station.
Aleksandr Averin, a member of the Other Russia executive committee, told the Sobkor®ru news agency that a pro-Kremlin youth group had attempted to sabotage the application. A representative of the group allegedly tried to register a different public gathering at exactly the same location as the one proposed by the Other Russia. Similar techniques have been used to block opposition rallies in the past. According to Averin, the Other Russia managed to turn their forms in first.
Organizers expect to hear back from the Mayor's office within a week. By Russian law, protesters must register a rally by declaring when and where it will take place, but do not need to ask permission from authorities. For that reason, officials cannot prohibit a demonstration without significant justification.
Still, the most recent March of Dissent, which took place in Moscow on March 3rd, was forbidden by authorities and shut down violently by OMON riot police. As result, over 200 people were arrested.