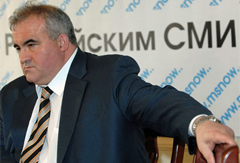 Russia's federal mass communication agency, Roskomnadzor, has decided to create an automated system to constantly monitor online media for instances of "extremism," Cnews.ru reported on Monday.
The agency has announced a contest for designs for software that would automatically monitor online media and locate signs of violations of federal legislation that prohibits extremism. The contest deadline is August 15, 2011, with a second deadline of December 15, 2011 for testing and bug fixes.
Officials estimated the cost of the system at 15 million rubles – about half a million USD.
Roskomnadzor hopes to use the system to monitor materials posted on internet media websites issuing public calls to commit acts of terrorism, justifying terrorism, demonstrating Nazi symbols or attributes, calling for the violent overthrow of constitutional order, violating the "unity of Russia," or inciting social, racial, national, or religious strife.
The system would also monitor public accusations against civil servants of having committed crimes.
Officials also want the system to locate "pornography propaganda" and organizations that have been banned by Russian courts, as well as "hidden inserts and other technical means and ways of distributing information that would act on people's subconscious or have a harmful influence on their health."
The software will be comprised of a media database, dictionaries of words and expressions that could constitute extremism as defined by Russian law, and "a repository of controversial materials."
Agency representative Mikhail Vorobyov said Roskomnadzor currently monitors internet media manually with search engines. He noted that the number of registered electronic media outlets is constantly on the rise, topping 5,300 resources today compared to 555 in 2008.
According to Vorobyov, the decision to create an automatic monitoring system was influenced by a June 2010 Supreme Court decision that only requires media outlets to delete or edit "unlawful reader comments" in response to an official request from Roskomnadzor.
Wanton charges of extremism are commonly used by Russian law enforcement agencies to apply pressure to opposition groups that carry out activities deemed undesirable by the state. Federal officials routinely harass protesters, conduct raids of homes and offices, hinder legal forms of protest, and in some cases block opposition websites. Amnesty International has accused federal Russian agencies of using extremism as an excuse to torture criminal suspects.