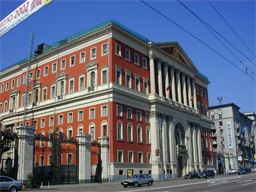 New legislation drawn up by the Moscow mayor's office is directly threatening the right of Russian citizens to hold opposition rallies, marches and other demonstrations, Marker.ru reports.
The new bill would put limits on the number of people allowed to demonstrate in the vicinity each of the city's transportation facilities. These limits would ensure that "no less than half of a thruway can be used for vehicle transport and, when necessary, for citizens not taking part in the rally." Any application submitted to the mayor's office to hold a rally without consideration of these limits would be rejected.
The Russian constitution only requires organizers to notify local authorities that they are holding a rally, leading many critics to argue that Moscow's policy of turning down certain applications is unconstitutional. Nevertheless, unsanctioned rallies are often violently repressed by the police.
The city administration said the bill is an attempt to deal with Moscow's paralyzing traffic jams, which Mayor Sergei Sobyanin named as one of his top priorities after being appointed last October. But the limits would have no effect on state-sponsored events, limiting only opposition and other independent demonstrations. The city's traditional St. Patrick's Day parade, for example, was cancelled this year, ostensibly for the same reason.
According to Eduard Limonov, leader of the Other Russia party and co-organizer of the opposition's Strategy 31 rally campaign, this is not the first time the government has tried to impose limits on the number of participants in rallies – but it is the first time they're trying to put it into law.
Former Moscow Mayor Yury Luzhkov has argued that Strategy 31 rallies should not be held in their traditional meeting place – Triumfalnaya Square – out of concern for people's safety, but at the same time has granted sanction to pro-Kremlin youth groups to rally in larger numbers on the same square.
Limonov said the new bill is connected to the revolutions in Egypt and Tunisia and that the Russian authorities are trying to "tighten the screws" out of a fear of public demonstrations.