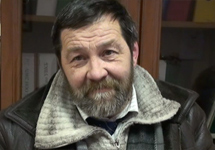 A Russian man from the city of Tver who came to Moscow to celebrate New Year's Eve in Red Square and accidentally wound up in the middle of an opposition protest has been sentenced to two and a half years in a penal colony, Gazeta.ru reports.
On Wednesday, the Tverskoy District Court in Moscow handed down the sentence to 56-year-old Sergei Mokhnatkin, finding him guilty of assaulting a police officer during a December 31, 2009, rally that was part of the opposition's Strategy 31 campaign in defense of free assembly. In the yearlong history of the rallies, he is the first person to receive an notable term of confinement.
Mokhnatkin's supporters insist that he had nothing to do with the protest. According to United Civil Front representative Aleksandr Khatov, the now-convicted man was detained when the rally was broken up by police. "He was just a passerby on his way to Red Square in order to meet the New Year there," said Khatov. "But then he saw that police had seized a woman and were dragging her towards a bus."
Mokhnatkin came to the defense of the elderly woman and, as a result, was detained and put in a police bus with nine other rally participants. There, Khatov went on, the man was handcuffed to his seat and beaten in front of all those present.
70-year-old Raisa Vavilova, the woman who Mokhnatkin tried to help, testified as a witness for the defense during the trial. She told the Interfax news agency that Mokhnatkin had never previously appeared at any demonstrations by the extra-systemic [those denied the right to operate in the political system – ed.] opposition. "He was an accidental passerby who stood up for me when I was detained on Triumfalnaya Square. They thought he was one of us," confirmed the elderly woman.
According to Khatov, Mokhnatkin testified that the incident with the police officer took place in the police bus where he was put after being detained. There, said the defendant, a policeman attempted to choke him. The court ruled, however, that the officer did not use any violence against Mokhnatkin, as an examination had found no signs of trauma on his body, and the officer, meanwhile, had a broken nose.
"He couldn't have hit anyone, because he was handcuffed to the seat," said Khatov. "Maybe he turned clumsily while he was being beaten."
Mokhnatkin turned out to be the only one of the 60 people detained at the rally who met the New Year in police confinement; all others had been let out before midnight. After being released, the man filed a complaint with the police department demanding that the officers who beat him be punished.
On June 1, Mokhnatkin was summoned to a police station where, he was told, he would have a chance to identify his assailants. Instead, said Khatov, police wanted to fingerprint the Tver resident. When Mokhnatkin refused, he was arrested and sent to a pretrial detention facility.
In response, Mokhnatkin declared a dry hunger strike – no food, no water – which Khatov says the man has now sustained for eight days. While dry hunger strikes are known to sometimes last as long as a week, most people cannot survive more than three days without water. When the trial began on June 8, his supporters found that he looked quite ill and feared for his health.
The verdict handed down today noted that the court considered only the police officers to be credible witnesses, dismissing all those on the side of the defense as persons of interest.
"It's notable that the testimony from defense witnesses was not accepted for consideration," Anastasia Rybachenko, an activist with the opposition movement Solidarity, wrote on her blog. "The judge felt that she couldn't trust them, since they entirely refute the testimony by the prosecution's witnesses – police officers."
While prosecutors asked Mokhnatkin to be sentenced to the full five years allowed by Russian law, the court, according to Gazeta.ru, took "all circumstances of the case" into consideration and ruled that it was possible to hand down a lighter sentence.
Mokhnatkin's lawyers do not plan to appeal.
"He was given a state lawyer who didn't even show up at the verdict reading," said Rybachenko.
Renowned rights activist and Strategy 31 co-organizer Lyudmila Alexeyeva said that the defendant had turned down legal aid that rights advocates had offered him.
"We sent Makhnatkin a lawyer. For some reason, he turned him down; it's possible that he didn't understand that it was free aid," Alexeyeva said on Ekho Moskvy radio. "He's something of a strange man, this Makhnatkin."
"Not only does he not deserve two and a half years, but those police officers who fabricated this case deserve punishment," she added.
Alexeyeva explained that police at the rally had taken Makhnatkin "for one of [National Bolshevik Party leader and Strategy 31 co-organizer Eduard] Limonov's guards and was very glad that a guard of Limonov allowed himself to hit a police officer," she went on. However, "when it became clear that he had nothing to do with Limonov, it was already too late."
Alexeyeva said she would work to ensure Makhnatkin's release.
"The man is innocent and we are going to get him released," she said.
Solidarity bureau member Sergei Davidis said that his movement is looking into getting Makhnatkin a lawyer to appeal the court's verdict.
Speaking to Ekho Moskvy, former Deputy Prime Minister and Solidarity bureau member Boris Nemtsov denounced the case as a show trial.
"This is an act of intimidation; it is aimed at making it so that the people who more and more gather on the 31st date become afraid of winding up in prison," he said. "It is a show trial, done so that all the rest who plan to come out on July 31 in Moscow and St. Petersburg, stop."