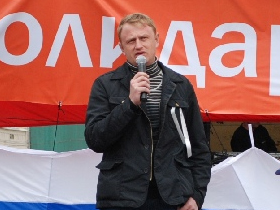 Former Russian cop Aleksei Dymovsky, known throughout Russia for his whistleblowing campaign against police corruption, has announced plans to hold a nationwide rally on June 12. As Dymovsky told Kasparov.ru earlier today, the rallies will address the abuse of authority in law enforcement agencies and the judicial system in the Russian cities of Novosibirsk, Omsk, and the Krasnodarsky Krai.
According to Dymovsky, the rallies are meant to support five Russians involved in three different criminal suits: two young men and a young woman from Novosibirsk who have been sentenced to 2-5 years in prison for supposedly beating 20 police officers at once, despite their claims that they themselves were the victim; Oleg Ivanov, a regional leader in Omsk who was charged with fraud, violence against a government authority, and abuse of authority after allowing Dymovsky to legally reside in his region; and Krasnodarsky Krai businessman Sergei Kolesnikov, who says that his business has been illegally taken away from him by the local police.
"I want to speak out in defense of real people, not abstract parrots," said the former officer.
Dymovsky said that iterations of the June 12 rally will be held in Omsk, Novosibirsk, and the Krasnodarsky Krai, and also most likely in the cities of Volgograd, Novorossiysk, Samara, Sochi, St. Petersburg, and Moscow. Where precisely Dymovsky himself plans to be that day, he didn't say.
"Wherever it's going to be more difficult, that's where I'll go," he said.
Dymovsky added that he's currently negotiating with a variety of social and political organizations to help coordinate and support the events. In particular, he said, opposition leader and Solidarity bureau member Garry Kasparov has promised to support the initiative. Solidarity Executive Director Denis Bilunov said that bringing his opposition movement and Dymovsky together was a "positive trend." The ex-major was a featured speaker at Solidarity's May Day celebration earlier this month.
The plans for the June 12 rally come a month after Dymovsky's latest video message on April 12, when the ex-major called for Russian President Dmitri Medvedev to establish order in the country by November 12, 2010, or face an angry mob on Red Square. While Dymovsky's original video last November gained widespread media coverage, the ex-major said in April that a media blockade had forced him to resort back to the online video format instead of holding a press conference. The April video has been viewed on YouTube more than 100 thousand times in the past month, in addition to the number of people who viewed it on his website.
Aleksei Dymovsky was fired from the Novorossiysk police soon after posting two videos online that detailed corruption he witnessed within his agency. After fleeing to Moscow in response to threats to himself and his family, Dymovsky held a highly-attended press conference and revealed that he had secretly recorded more than 150 hours of audio in support of his allegations. He was arrested in January on trumped-up charges of fraud, which were dropped in April. His messages have spurred dozens of similar videos from other Russian police officers, state prosecutors, and other government workers from all over Russia. Many people who have come forward to help Dymovsky have found themselves persecuted for their actions. Neither President Medvedev nor Prime Minister Vladimir Putin have publically acknowledged Dymovsky's existence.