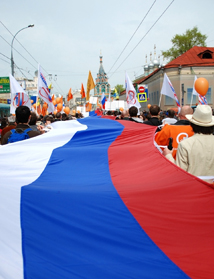 Thousands of Russians turned out for traditional May Day celebrations on Saturday throughout the country, with protests, marches, and rallies held by oppositionists, rights advocates, union workers, and other activists. While many of the events proceeded largely without incident, a number of protesters were detained without basis and some rallies were banned altogether.
According to Ekho Moskvy radio, May Day events in Moscow that had been sanctioned by the city government included five demonstrations, three processions, and eleven rallies. One of the processions was organized by the opposition movement Solidarity, which counted members from a variety of other opposition groups and public organizations among its 500 participants. Prominent figures in the procession included United Civil front leader Garry Kasparov, former Deputy Prime Minister and Solidarity cofounder Boris Nemtsov, and former police Major Aleksei Dymovsky. Participants carried posters, political insignia, and a gigantic Russian flag spanning several meters in length while chanting "Russia without Putin," "Moscow without Luzhkov," "Putin is Brezhnev, Putin is Stalin," "We need the Other Russia," and "Putin must go," among other slogans.
Although a smoke bomb was set off at one point during the procession, the police did not move to detain anyone. Protesters believe that a provocateur set off the bomb. Despite that, the procession successfully made its way to Moscow's riverside Bolotnaya Square, where the event ended with a cultural festival. Police detained several people on the square without explanation, including Andrei Moiseyev, co-leader of Solidarity's Moscow branch and one of the event's organizers. Moiseyev was escorted away by police together with a reproduction of a painting by artist Dmitri Vrubel, entitled "The Kiss of Putin and Brezhnev" that he was holding. Also detained were artist activist Pyotr Verzilov, his wife, several musicians, and event co-organizer Sergei Davidis. Police gave no explanations for any of the detentions.
Elsewhere in Moscow, at least five thousand people turned out for a demonstration held by the Communist party. In addition to the Communists themselves, members of the Left Front, the National Bolsheviks, the anti-fascist group Antifa, and anarchist organizations also joined the protest.
The liberal opposition group Yabloko also held a demonstration in Moscow, with approximately 1200 participants. Chief among speakers at the event was Yabloko leader Sergei Mitrokhin, who warned against allowing Prime Minister Putin to return to the presidency in 2012. "We need a new president who won't rob the people of their rights and freedoms – who will fight not against the opposition, but against corruption," he said to the crowd.
Another protest dubbed the Day of Anger was held in Moscow by the opposition group Left Front. A wide variety of oppositions, human rights advocates, environmental activists and social justice advocates came together to express their collective grief with Moscow's ruling elite – in particular, Mayor Yury Luzhkov and Governor Boris Gromov.
Controversy had surrounded plans for the Day of Anger all last week. Left Front leader and event organizer Sergei Udaltsov had said on Wednesday that the city had sanctioned the event, but the mayor's office denied this the next day. It remained unclear up to the end whether the rally had really been officially sanctioned or not – a vital factor, since participating in an unsanctioned rally in Russia is punishable by law, and many unsanctioned rallies end with participants being beaten and/or arrested by the police. In any case, the rally went on, but Udaltsov was detained at the end. The official reason cited by police was that more people had taken part than Udaltsov had indicated on the application for sanction. According to Left Front press secretary Anastasia Udaltsova, the unofficial version for Udaltsov's detention, as told by several police officers, was that "representatives of the Moscow government would like to have a chat with him."
In the city of Kaliningrad, approximately three thousand demonstrators took part in a rally of various opposition groups. According to Kasparov.ru, what began as a traditional May Day demonstration evolved into an anti-government rally. Participants brought signs to the event reading "Peace, work, May – no work, no housing," and held up tangerines, which have become a symbol of public protest in the city in recent months. Following that, however, protesters began chants demanding for the federal government to resign.
In St. Petersburg, a procession planned by democratic opposition groups was banned by city authorities. Olga Kurnosova, executive director of the pro-democracy group United Civil Front, said that the reason involved the slogan that the protesters had planning to use, which called for St. Petersburg Governor and Putin favorite Valentina Matviyenko to resign. Supposedly, the slogan did not correspond with the slogan written on the application to hold the rally that was filed with the city. Therefore, the procession was banned altogether. Despite that, about seven hundred oppositionists held a stationary demonstration where the procession was supposed to take off from.
A photo gallery of the various events in Moscow is available here at Grani.ru.