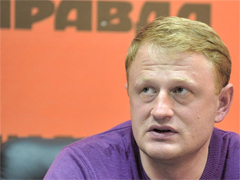 Former Police Major Aleksei Dymovsky, famous for his efforts to expose corruption in Russia's law enforcement agencies, has been released from a detention center under an oath not to leave the country.
A press release on the website for the Krasnodarsky Krai Investigate Committee said on Sunday that Dymovsky was being released because investigators had finished looking into the allegations of fraud against him.
Dymovsky had been both fired and arrested shortly after posting two videos on YouTube in November addressed to Russian Prime Minister Vladimir Putin, detailing corruption in the Novorossiysk police department. His efforts triggered a slew of similar videos from police officers around the country. The official pretext for his arrest was a suspicion that Dymovsky appropriated 24 thousand rubles (about $800) from the Krasnodar police department, and he was placed in a local criminal investigative detention center (SIZO) on January 22. Dymovsky has categorically denied the charges, asserting that he has documents proving his innocence.
Authorities also said in late February that it was necessary to detain Dymovsky because he lacked a job and permanent residence.
"The decision to release Dymovsky from the SIZO is a good sign," said Lev Ponomarev, prominent rights activist and head of the Association of Russian Lawyers for Human Rights. "We're going to see to it that he remains free."
"It would be good if the persecution of those who helped Dymovsky ended as well," he added.
According to RIA Novy Region, Dymovsky said on Sunday evening that prison guards in the Krasnodar SIZO had illegaly detained him for five additional hours after he should have been released. "It was probably some small measure of revenge for the SIZO officers," Dymovsky said.