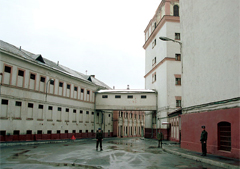 Federal authorities have filed a criminal suit against the primary investigator allegedly involved in last week's death of businesswoman Vera Trifonova, RIA Novosti reported on Tuesday.
Vladimir Markin, official representative of the Investigative Committee of the Prosecutor General of Russia, said that investigator Sergei Pysin has been charged with neglect of duty. If convicted, he faces up to five years in jail.
Trifonova, who suffered from diabetes and chronic kidney failure, died of heart failure in Moscow's Matrosskaya Tishina pretrial detention facility last Friday. The businesswoman had been detained since December 2009, when she was arrested on suspicion of massive fraud. Her lawyer alleges that Trifonova was intentionally denied medical care so that she would die, immediately giving rise to comparisons in the Russian press to the case of Hermitage Capital Management lawyer Sergei Magnitsky. The lawyer died last November, also in Matrosskaya Tishina, and also allegedly due to intentionally denied medical care. Russian Federal Penitentiary Service (FSIN) officials admitted partial responsibility in that case.
After Magnitsky's death, Russian President Dmitri Medvedev had ordered massive layoffs from FSIN. Among those, says FSIN head Aleksandr Reymer, was supposed to have been Matrosskaya Tishina manager Fikret Tagiev. The newspaper Vedomosti reported on Tuesday, however, that Tagiev remains in charge of the facility to this day. FSIN officials in Moscow did not confirm whether or not this was the case.
President Medvedev ordered a federal investigation into Trifonova's death on Saturday. In the meantime, at least two people have been fired in connection with the incident – Deputy Manager Aleksandr Filippov at Moscow's regional investigative agency (and one of Pysin's supervisors) and Valery Ivarlak, who also worked at the agency.
Trifonova's lawyer, Vladimir Zherebenkov, told the newspaper Gazeta that charging Pysin with negligence would sidestep his actual crime.
"I'm going to insist that it wasn't negligence; there was clearly a direct intent here," said the lawyer. In an earlier statement to the advocacy group Justice, Zherebenkov detailed how Pysin removed Trifonova from a Moscow hospital against doctors' orders and sent her to a hospital 75 kilometers outside of Moscow that lacked the equipment she needed to survive. "I'm going to demand that he be charged with abuse; he knew perfectly well where he was sending her, and he should answer to the fullest extent," he told Gazeta.
Zherebenkov said that he plans to have the proper documentation prepared by next Tuesday to request that Pysin be charged with abuse of his official authority – an offense punishable by up to ten years in prison.
Also on Tuesday, a group of prominent human rights advocates from the Russian Association of Independent Observers addressed a letter to President Medvedev demanding that those responsible for Trifonova's death be brought to justice. The signatories included Lyudmila Alexeyeva, Andrei Babushkin, Valery Borshchev, Lev Ponomarev, and Aleksandr Goncharenko.
Speaking to the online news site Kasparov.ru, Borshchev lamented that "practically nothing serious was done after Magnitsky's death. This allowed the situation to happen again." He added that there was more blame to go around than just on Investigator Pysin. Odintsovsky City Court Judge Olga Makarova, for one, had stated publically that she wouldn't grant Trifonova's bail request unless she plead guilty.
The letter also includes a list of illnesses and asks the president to authorize a ban on allowing anyone suffering from them to be held in a pretrial detention facility. Right now, the list only applies to convicted criminals.