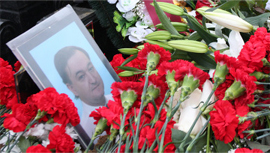 The Russian Federal Penitentiary Service has admitted partial guilt for the death of Hermitage Capital Management lawyer Sergei Magnitsky, according to RIA Novosti. Magnitsky died last week in a Moscow criminal detention facility after being held for a year without charge. Colleagues say he was denied medical treatment by prison officials attempting to bribe him into signing a confession to allegations of tax evasion.
During a hearing on the lawyer's death in the Russian Public Chamber on Thursday, Federal Penitentiary Service Deputy Director Aleksandr Smirnov stated that "We are by no means minimizing our guilt, which is obviously there." He asked, however, that no definitive conclusions be made until the results of a review ordered by President Dmitri Medvedev were made available, which should be within two to three days.
Also during the hearing, chairman of the Public Chamber's law enforcement committee Anatoly Kucherena requested that Prosecutor General Yury Chaika order a review of the accusations of denied medical treatment, which Magnitsky's mother had blamed in his death in a message to the Public Chamber. Kucherena also asked that the results of the review be made available to the mother.
Sergei Magnitsky died on the night of November 17 in the Moscow criminal detention facility Matrosskaya Tishina. The cause of death was reported as a ruptured pancreas and acute cardiovascular failure. On November 19, an inter-regional prosecutorial investigative committee in Moscow refused to order a repeated forensic examination. After an international outcry from human rights groups, President Dmitri Medvedev ordered a review into the death on November 24.
Materials written by Magnitsky and published after his death show that the lawyer had requested medical attention on numerous occasions. Prior to his arrest, the lawyer had been working with the British investment firm Hermitage Capital Management, which was once Russia's largest investment firm but has campaigned against numerous corrupt Russian bureaucrats and politicians. He was later arrested on allegations of tax evasion, but never charged. Colleague Bill Browder directly blames the prison system for Magnitsky's death. "He was their hostage and they killed their hostage by denying him medical attention," he told the BBC.