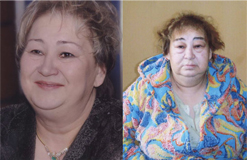 Nearly half a year has passed since Sergei Magnitsky's scandalous death in a Moscow detention center sparked international outrage at Russia's penitentiary system. Now, in a case that bears an unsettling resemblance to Magnitsky's, a Russian businesswoman awaiting trial on charges of fraud has died in the same detention center. And like Magnitsky, her lawyer alleges that the woman died as a result of being denied necessary medical care.
According to Russian Federal Penitentiary Service representative Sergei Tsygankov, the 53-year-old Vera Trifonova died at 12:35 pm on April 30, 2010, in the intensive care unit of the hospital at the Matrosskaya Tishina criminal investigation detention facility (SIZO) in Moscow. Local police were called to the scene, established that there were no signs that the death has been violent, and have launched an investigation.
Trifonova's lawyer, Vladimir Zherebenkov, told the rights organization Justice that his client was refused proper medical care to such an extent as to constitute an intent towards her "physical destruction."
According to a press release from the organization, medics had diagnosed the businesswoman with severe diabetes and had determined that she had only one working kidney.
Zherebenkov explained that Trifonova's health began to sharply declined when she was arrested in December 2009 and placed in Matrosskaya Tishina. When she complained that her lungs were filling with liquid, she was brushed off and told to "sleep standing up." After demands by her lawyer, Trifonova was eventually moved to a Moscow city hospital, where she immediately recovered. Doctors at the hospital confirmed that Trifonova required specialized treatment that included regular cleansings of her blood – a procedure not possible at the detention facility.
At that point, says the lawyer, Investigator Sergei Pysin told Trifonova that she would get different accommodations if she plead guilty to the fraud she was charged with. The woman refused, and despite doctors' orders that Trifonova not leave the hospital even for investigative proceedings, Pysin brought her back to Matrosskaya Tishina.
Zherebenkov believes that Pysin had at that point prepared a medical document from Matrosskaya Tishina doctors declaring Trifonova's condition to be stable and fit for investigative proceedings. On the basis of that document, he says, Odintsovsky Court judge Olga Makarova turned down Trifonova's April 16 request to be released on bail, and instead extended her detention for another three months.
That same day, the press release goes on, a decision was made to move Trifonova to a female penal colony in Mozhaysk, seventy miles west of Moscow. Officials at the penal colony refused to admit her, however, and she was taken to the Mozhaysk city hospital. According to Zherebenkov, doctors at the hospital did not know how to help the woman because they lacked the proper equipment to cleanse her blood, a procedure that she needed two to three times a week.
In the days that followed, the investigator repeatedly promised the Zherebenkov that they would find some way to move Trifonova to a hospital outfitted for her condition. But in the meantime, the businesswoman's condition was quickly deteriorating. On April 26, the lawyer resorted to using an ambulance rented by Trifonova's relatives to bring her to a local medical institute to undergo treatment.
Trifonova was finally brought back to Matrosskaya Tishina on April 29, and was supposed to have been brought back to the original hospital in Moscow today. As is now obvious, it was already too late.
"They purposefully destroyed her, and sent her to the Mozhaysk prison so that she would die there," says Zherebenkov. He believes that the investigator "filled the order" of one of Trifonova's business partners who owed her several million dollars.
According to RIA Novosti, officials from the Federal Penitentiary Service responded to the lawyer's accusations that Trifonova was denied medical care by referring to the fact that the paperwork ordering her to undergo medical evaluation had needed to be signed by the investigator "who disappeared somewhere and we were unable to get in touch with him."
Zherebenkov says he plans to file a criminal suit against Pysin and appeal to the European Court of Human Rights in Strasbourg. "Vera Trifonova repeated the fate of Sergei Magnitsky, because our SIZOs are instruments of torture and a means to pressure people," he said.
The press release from Justice, the main source of information for this article, is available in Russian by clicking here.