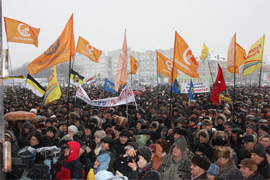 Organizers of a massive anti-government protest in Kaliningrad have come together in a political coalition that they hope will provide a viable alternative to the ruling United Russia party, Kasparov.ru reports.
Rally organizer and coalition co-founder Konstantin Doroshok said that a founding assembly was held on Wednesday, but leaders have yet to settle on a name for the new union.
The January 30 protest in Kaliningrad, in which between 7 and 12 thousand people participated, was notable both for its massive size and for the diversity of political forces represented. The new coalition features similar diversity, including the Kaliningrad branches of the parties Solidarity, Justice, A Just Russia, Patriots of Russia, Yabloko, and the Communist Party.
According to the Nezavisimaya Gazeta newspaper, coalition leaders invited the local branch of the Right Cause party to join the union, but leader Mikhail Tsikel declined the proposal. The ultranationalist Liberal Democratic Party is also not included in the coalition.
Doroshok said that the union's main goal is "to break the political monopoly of United Russia," Prime Minister Vladimir Putin's ruling party, which has dominated the country's elections at every level since its inception in 2001.
Ekho Moskvy reported that Kaliningrad residents have been threatened with losing their jobs or having their wages slashed if they take part in the coalition's upcoming rally on March 20. Likewise, students have been promised that they will be expelled.
Meanwhile, the Kaliningrad Public Chamber was set to meet on Thursday with the Public Chamber of Russia to discuss the situation in the region, which has been a media spotlight since January's massive rally. A relatively new institution, the Public Chamber is an oversight body intended to monitor government activities.
Protesters in the January 30 rally gathered in Kaliningrad to collectively demand that high vehicle tariffs be annulled and that Kaliningrad Governor Georgy Boos and Prime Minister Putin both resign. Boos immediately cancelled his vacation plans and promised to meet with opposition leaders, although he cancelled multiple times before finally meeting with Doroshok on February 26.
Another rally of more than a thousand Kaliningrad residents was held in the city of Yernyakhovsk on February 28, and a demonstration of comparable size to the one on January 30 is scheduled for March 20.