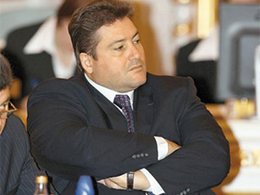 Embattled Kaliningrad Governor Georgy Boos appears to be reneging on his promise to meet with local opposition leaders, Kasparov.ru reported Thursday.
The governor had initially called the meeting after one of Russia's largest protests in recent history was held in Kaliningrad on January 30. By various estimates, between 7 and 12 thousand residents came together to protest tariffs and call for the governor's resignation.
The protest gained widespread media attention domestically and abroad, provoking Boos to cut his vacation short and the Kremlin to scapegoat Oleg Matveychev, a political adviser responsible for the region who has now resigned under pressure. The governor then scheduled a meeting with rally organizers for February 2.
However, Boos phoned opposition leaders on Wednesday evening to tell them that the meeting would have to be postponed – already for the second time in less than two weeks.
According to Konstantin Doroshok of the Solidarity opposition movement, the governor said that the meeting would have to be put off because they have not yet been able to ensure participation from all local opposition representatives. He did not specify to Doroshok when exactly the meeting would be rescheduled.
The Gazeta.ru online newspaper cited sources in the Kaliningrad government as saying that the governor wanted to see Mikhail Tsikel, the local representative of the Right Cause movement, at the meeting with opposition leaders. However, in addition to being out of town, Tsikel did not participate in the January 30 rally.
Kaliningrad Regional Duma Deputy Mikhail Chesalin of the Patriots of Russia party was also notified of the meeting postponement by the governor on Wednesday. He added that during their conversation, the governor had mentioned the Communist Party. Local Communist Party representative Igor Revin told Gazeta.ru, however, that their party has not been invited to the meeting at all, leading to speculation as to why the governor would mention it.