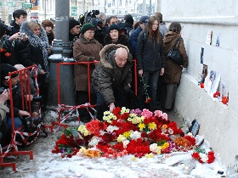 Approximately 600 people turned out for a memorial march for slain lawyer Stanislav Markelov and journalist Anastasia Baburova in Moscow, reports Kasparov.ru.
City authorities originally denied official sanction for the march, but later agreed to a second appeal by activists.
A broad array of social, political, and human rights organizations were represented at the march, which proceeded through the middle of the city north of the Kremlin. Notable participants included For Human Rights Executive Director Lev Ponomarev, Memorial human rights center Director Oleg Orlov, Yabloko leader Sergei Mitrokhin, and Solidarity director Denis Bilunov.
Per agreement, participants in the march carried no political flags or symbols, although it was not immediately clear whether this agreement was made among the participants themselves or on the order of city authorities.
Police officers patrolling the event required activists to march in groups of 50, with separate police escorts assigned to each group. Several dozen protesters did attempt to break through the area cordoned off by security forces, lighting smoke bombs and unfurling banners. Approximately 24 protesters were beaten and detained by police as a result.
The march was intended to conclude with a rally at the end of the designated route, but was delayed due to police requiring all 600 participants to file through only two metal detectors.
After forty minutes of delay, a crowd of protesters broke through the police barrier in an attempt to begin the rally, resulting in police detaining 18 participants and beating dozens more.
Another 50 participants were detained throughout the course of the event, with activists alleging that police were especially harsh in their treatment of younger members of the crowd.
In addition to the memorial march, Moscow residents brought flowers and candles to the place where Markelov and Baburova were murdered throughout the day on Tuesday.
Stanislav Markelov was shot in the head in central Moscow on January 19, 2009. He died at the scene. Novaya Gazeta journalist Anastasia Baburova, who had been walking with Markelov, was also shot, and died the same day in the hospital.
Markelov was known for his work defending victims of human rights abuses in Chechnya and violence from ultranationalist and neo-Nazi organizations. Two suspects in the murders, alleged neo-Nazis Nikita Tikhonov and Yevgeniya Khasis, were arrested in November and have pleaded guilty to the crimes.