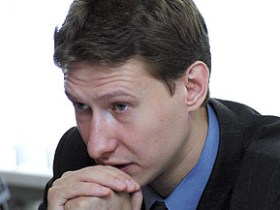 A prominent Russian rights lawyer who exposed abuses in Chechnya and spoke out against neo-nazis was gunned down in central Moscow Monday, along with a young reporter who later died in the hospital.
Stanislav Markelov (left), who most recently protested against the early release of a Russian officer serving time for killing a young woman in Chechnya, was shot at close range by a masked gunman, the RIA Novosti news agency reports, citing law enforcement officials. The shooting happened at around 2:45 PM, in broad daylight near the Kropotkinskaya metro station in the Moscow city center.
Anastasia Baburova, 25, a student at the Moscow State University who wrote for the Novaya Gazeta newspaper, was also shot in the head, and died without regaining consciousness, according the the Gazeta.ru online newspaper.
A murder investigation has been launched, and authorities are considering whether the murder was connected with Markelov's professional activities. Prosecutor General Yury Chaika was personally taking hold of the investigation, according to media reports.
Markelov, 34, was returning from a press-conference to bring attention to the early release of Yury Budanov, a former colonel in the Russia army convicted of strangling a young Chechen woman, Elza Kungayeva (also known as Kheda Kungayeva). The former officer was sentenced to 10 years in 2003, but was released on parole 15 months early on January 15th. Markelov represented Kungayeva's family, and had appealed the decision to parole Budanov. Speaking at the press-conference, he had pledged to take the case to an international court if the Russian court system failed to accept his appeal.
Budanov was one of the only high-level officers prosecuted for atrocities in Russia's the two wars in Chechnya, and the decision to parole Budanov had sparked protest around the Caucasus mountain republic. Nurdi Nukhazhiyev, the human rights commissioner in Chechnya, called Budanov's release "completely bald-faced disrespect for the opinions of many thousands of people."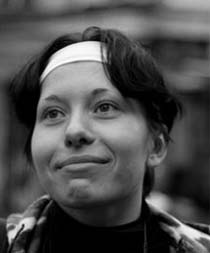 Anastasia Baburova (right) had been covering Budanov's case for Novaya Gazeta, a prominent independent newspaper that once employed slain journalist Anna Politkovskaya.
"The trail for the investigation should be evident," said Lev Ponomarev, director of the For Human Rights movement. "But [Markelov] was also one of the keenest lawyers in Russia. He defended the victims in the murder cases of anti-fascist activists in Moscow. Markelov was the best known lawyer in Russia who spoke out against nazis. There were death threats on nazi [web] sites, that is absolutely certain."
According to Elza Kungayeva's father, Visa Kungayev, Markelov had been receiving death threats via phone calls and text messages for over a year. Kungayev told the Sobkor®ru news agency that he had feared for Markelov's life, and had advised him to quit the case.
Markelov had been a staunch defender of human rights activists in Russia, and had worked to help journalist Anna Politkovskaya. More recently, he had represented the interests of journalist Mikhail Beketov, who criticized officials in the Moscow suburb where he lived, and was brutally beaten in November 2008.
On January 20th at 12:00 PM, human rights activist and sympathizers will bring flowers to the place where Markelov and Baburova were killed. (ul. Prechistenka house 1, metro Kropotkinskaya, Moscow).