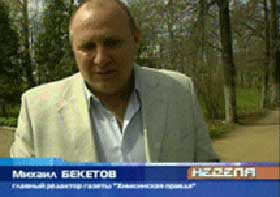 Mikhail Beketov, the editor-in-in chief of a small and vocal opposition newspaper in the Moscow suburbs, is in critical condition after being assaulted and beaten outside his home. According to a statement obtained by the Sobkor®ru news agency, Beketov was found by a neighbor on the morning of November 13th by his building in the Khimki district.
The journalist, who publishes the Khimkinskaya Pravda (Khimki Truth) newspaper, was taken in an unconscious state to a city hospital, where his condition remains extremely serious. Beketov sustained a head injury, multiple broken bones, and other injuries that doctors said could easily have been fatal.
Mikhail Beketov is well known for his critical articles against local authorities in Khimki. His paper has raised issues like the the transfer of an airmen hero monument, and the battle to save a section of the Khimki forest.
Beketov's articles apparently raised the ire of authorities. In May of 2007, unknown perpetrators detonated his car, and in February, a criminal case was launched against him for alleged libel. The editor has also said that threats were made against his life.
—
Mikhail Beketov, speaking with Ekho Moskvy Radio on May 24, 2007
The last issue of the Khimkinskaya Pravda newspaper was powerful, and we demanded the resignation of the current authorities. We were saying that they disgraced the country, disgraced Khimki, disgraced our memory, our past. After the last issue, where we published information about the hideousness happening during the exhumation, when we published photographs of the bones that they found in the graves; I was threatened.
Today, in the fourth hour of morning, I heard a noise, and ran out to my yard: a shadow darted behind the garage, and a car was burning behind it. They burned my car. I understand that this was a warning from the local administration.