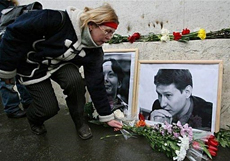 Moscow city authorities have refused to sanction a march and rally in memory of lawyer Stanislav Markelov and journalist Anastasia Baburova, both murdered a year ago, reports Kasparov.ru.
According to rally organizer Lyudmila Alexeyeva, a prominent human rights advocate whose arrest at a New Year's Eve demonstration in Moscow has drawn international scorn, the city authorities had no basis on which to prohibit the rally.
"We are categorically outraged at this refusal," Alexeyeva said. She described a sanctioned rally held in January 2009 directly after the murders as having been "quiet and peaceful," giving authorities no reason to suspect that this year's rally would be any different.
"But our authorities very much love to prohibit everything; they need to, so that the citizens sit at home, and if they do go outside, then only these 'Nashi' will be there with their cries of 'Hooray Putin!'" Alexeyeva said, referring to the pro-Kremlin youth organization Nashi.
The rights advocate added that the application for the January 19 rally had been filed on December 24, giving authorities plenty of notice.
Stanislav Markelov was shot in the head in central Moscow on January 19, 2009. He died at the scene. Novaya Gazeta journalist Anastasia Baburova, who had been walking with Markelov, was also shot, and died the same day in the hospital.
Markelov was known for his work defending victims of human rights abuses in Chechnya and violence from ultranationalist and neo-Nazi organizations. Two suspects in the murder, alleged neo-Nazis Nikita Tikhonov and Yevgeniya Khasis, were arrested in November and have plead guilty to the crime.