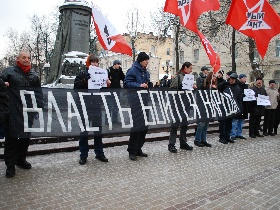 The Moscow Regional Duma has introduced an initiative that would require protesters to request government permission to hold solitary protests, reported Ekho Moskvy radio.
The measure was introduced as an amendment to current Russian legislation that governs demonstrations and other public gatherings.
Legislators explained the measure in an explanatory note, saying that solo protesters sometimes set themselves on fire or, alternatively, come under attack by other people. Under current legislation, the note continues, local police receive no notification that a protest is planned and therefore are unable to properly respond when such a situation breaks out.
Until now, solitary demonstrations were the only legal means of protest for Russian citizens that did not require any type of official sanction. Opposition protesters have frequently been forced to utilize this provision after being denied sanction for larger gatherings.
Russian rights activists and opposition leaders reacted strongly to Friday's announcement that their last remaining means of legal protest would soon be effectively banned, rejecting the idea that the measure was for their own safety.
Denis Bilunov, executive director of the opposition movement Solidarity, said that the initiative "directly contradicts" federal law.
Roman Dobrokhotov, leader of the opposition movement We, said that the initiative was no surprise given the Ministry of Transport's recent move to stiffen penalties for protesters who blocked roads or highways.
The new penalties were introduced to the Russian State Duma at the end of December, with fines rising from 2,500 rubles ($84) to 100,000 rubles ($3,340), and the maximum prison sentence rising from 15 days to two years.
Blocking highways has become a growing means of protest in Russia for older citizens and pensioners who have failed to affect change through other means. Residents in the devastated industrial town of Pikalevo were able to receive long unpaid wages only after gaining nationwide media attention by blocking a federal highway last June.
According to Dobrokhotov, both pieces of legislation will backfire if adopted.
"We will block the roads and hold solo protests out of principle, to fight for our rights," he said. "Moreover, we will hold such demonstrations more often than before."
Dobrokhotov added, however, that essentially "nothing is changing" since police have often interrupted solitary demonstrations regardless of the fact that they are legal.
In November, Solidarity leaders obtained an internal police memo that ordered officers to illegally disrupt a series of solo demonstrations. The movement plans to use the document in a lawsuit against the Russian Internal Ministry's notorious Center for Extremism Prevention, which, according to the document, ordered the illegal detentions.
Ilya Yashin, a Solidarity member who posted the police memo on his blog, agreed that there was nothing surprising about the newest government initiative. "The authorities consider this type of demonstration to be a menace, since it's the only measure that the opposition can still use relatively effectively," he said.
Approximately 50 protesters took to the streets in Moscow on Saturday in response to both pieces of legislation. Sergei Udaltsov, leader of the Left Front political organization, said that activists would protest outside of the Kremlin when the amendments come up for deliberation.
"The year is beginning badly," Udaltsov said. "The government's initiatives attest to the fact that they are expecting a second wave for the crisis and, consequently, a rise in protests."
Police officers subjected people attempting to join the protest to a thorough search, banning some from taking part on the basis of unspecified written material that the people in question were carrying.
Prominent human rights advocate Lev Ponomarev said that the amendment to strip citizens of the unconditional right to solitary protests would be harmful for citizen society at large. "If a person is connected with a political group, he knows how to submit applications for demonstrations and rallies. An ordinary person only knows that at any moment he can go outside to hold a solitary demonstration and nobody will arrest him," Ponomarev said.