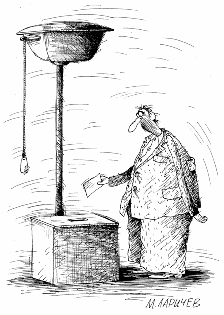 Less than half of Moscow residents trust the results of recent elections for the Moscow State Duma, according to a survey by the Russian Public Opinion Research Center (VTsIOM). The survey contradicts statements by Russian President Dmitri Medvedev that the election results reflected the preferences of voters.
According to the survey, 44 percent of Muscovites trust the official results of elections that took place on October 11 (21 percent say they "unconditionally trust" while 23 percent say they "likely trust" the results). Other Muscovites, an equal 44 percent of those surveyed, do not trust the results (22 percent "likely do not trust" and 22 percent "unconditionally do not trust"). The remaining respondents were unsure.
Official results gave Prime Minister Vladimir Putin's leading United Russia party 66.25 percent of the vote and the five remaining parties 31.28 percent. The survey reports that therefore, even 11 percent of those who voted for United Russia themselves do not believe that the results correspond with reality.
Nevertheless, a majority 51 percent of Muscovites do not believe that new elections should be called: that "the elections took place, and need to remain as they are." Only 10 percent insisted on a set of early elections. A recount was supported by 4 percent of those surveyed, and 9 percent supported the creation of a commission that would investigate alleged violations. Another 11 percent believe that "the opposition should transfer all facts it has about violations to the courts."
Elections took place on October 11 in Moscow and 75 other regions of Russia for officials on various levels of government. They delivered sweeping wins for United Russia across the country, continuing the political monopoly it has held since its conception in 2001. Observers noted massive electoral violations, including ballot stuffing and multiple voting with the same absentee ballot.
In Moscow, the majority of opposition candidates had been banned from the ballot. Widespread electoral fraud quickly became evident and has been statistically documented. Numerous incontrovertible examples highlight the unabashed nature of these violations – opposition party Yabloko, for one, received no votes even at the polling station where its leader, Sergei Mitrokhin, had voted.