Repression

Russian activists who tried to petition for falsified election results to be annulled have been thwarted by a legal stipulation that only allows candidates to context elections.
Dec 29, 2012 |
Continued

Jailed Pussy Riot member Maria Alyokhina has written a letter decrying the living and working conditions in her penaly colony, where administrators use the constant threat of being denied parole to keep inmates in line.
Dec 18, 2012 |
Continued

One of the Russian Defense Ministry officials fired as part of a recent federal corruption probe fears that he may be in for the same fate as Sergei Magnitsky, after being placed in pre-trial detention and denied medical care for his heart condition.
Nov 27, 2012 |
Continued

Three prominent Russian leftist organizations have published an open letter calling for solidarity in the fight against Russian political prisoners, bringing much-needed attention to the plight of more than a dozen recently-arrested activists.
Nov 12, 2012 |
Continued

The head of Russia's only independent electoral watchdog says that Russia is still suffering from a "total lack of competition" in elections, after regional and local elections were held across the country on Sunday.
Oct 15, 2012 |
Continued

Sources in the Russian Interior Ministry say a new measure to ban "undesireable foreign citizens" from entering the country is intended as a way to allow the ministry to keep out political activists and religious radicals.
Sep 28, 2012 |
Continued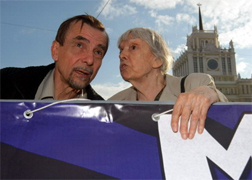 With the new law labeling NGOs that accept foreign funding as "foreign agents" coming into effect in the next month, Kasparov.ru spoke to several organizations to see how they were planning to deal with the repressive measures.
Sep 28, 2012 |
Continued

In light of Putin's decision to kick USAID out of Russia, on top of a law that already required NGOs that accepted funding from abroad as "foreign agents," RFE/RL interviews Lyudmila Alexeyeva to get her view on what the closure means for the country.
Sep 20, 2012 |
Continued

In a virtually unprecedented verdict for the Russian opposition, Garry Kasparov has been acquitted of spurious charges by police officers that he yelled anti-governmental slogans outside a courthouse last Friday and ignored police orders to stop doing so.
Aug 24, 2012 |
Continued

Russian police have falsified reports written up after Garry Kasparov's arrest, claiming that he was arrested at a different time than he was, that he was shouting political slogans, and that they warned him to stop – all of which are refuted by the photographic and video evidence presented here.
Aug 23, 2012 |
Continued