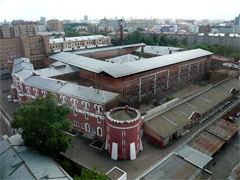 The past few weeks have seen a major shakeup within the leadership of the Russian Defense Ministry. The sensational news that Defense Minister Anatoly Serdyukov had been fired following a corruption probe broke on November 6, and other heads in the ministry have been proverbially rolling ever since. It now appears that one of them, Dmitry Mityaev, may be slated to share the same fate as murdered lawyer Sergei Magnitsky.
According to Ekho Moskvy, Mityaev was arrested on November 7 – much earlier than other figures that fell under the federal probe. His parents complain that the arrestees are being subjected to a double standard: While Yevgenia Vasilyeva, former head of the Property Relations Department, is being held under house arrest, Mityaev was placed in pre-trial detention at Butyrka Prison. The latter is well-known as the prison where Hermitage Capital Lawyer Sergei Magnitsky was murdered after being held for over a year and by being denied necessary medical attention. Mityaev's parents say that he suffers from a serious heart condition and is similarly being denied proper care.
The situation is especially troubling for the Mityaev family given that, according to the arrestee's mother, he had cooperated with federal investigators to help build the corruption case. She says he provided evidence on the Defense Ministry's property sales and on who received "cuts" from those deals.
Mityaev is charged with accepting a bribe of 3 million rubles (about USD 97,000). According to investigators, he agreed to help sell Defense Ministry property in the Moscow suburb Shchelkovo in return for the bribe.