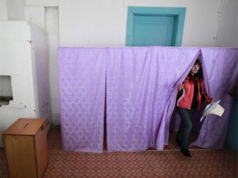 In the wake of regional and local elections throughout Russia on Sunday that largely went to candidates from the pro-Putin United Russia, observers are claiming that fraud, pressure, and other forms of illegally influencing elections are only become worse and worse, Kasparov.ru reports.
Liliya Shibanova, head of the Golos Association, said on Monday that government authorities have toughened regulations on filming, which was particularly instrumental in revealing fraud in elections last December, and that members of the Central Electoral Commission have ramped up pressure on observers and active voters. Golos is the only independent electoral watchdog in Russia.
"We still haven't moved on from that critical point where there's a total lack of competition in the elections," Shibanova said. "The technologies to falsify results remain in place as before, and the government has preserved the most important regions for itself, allowing opposition victories only on the municipal level."
The Golos head noted that the only victories given to oppositionists were for members of the Yabloko party and independent candidates on the local level. Gubernatorial elections in Bryansk, Ryazan, Priamurye, Nizhny Novgorod, and Belgorod, however, all went to United Russia.
Aleksandr Kynev, an analyst from the Foundation for Information Policy Development, told Gazeta.ru that a preponderance of "spoiler parties" were also a problem for parties such as A Just Russia, the LDPR, and the Communist Party.
Such spoiler parties, which confuse voters and ultimately siphoning votes away from other parties, became possible after electoral reforms earlier this year lowered the threshold of members needed to form a party to 500. "In order for you not to get lost, you need to have a known, unique face. This can only be in the form of clear political positions, clear political steps, and bright leaders," Kynev said.