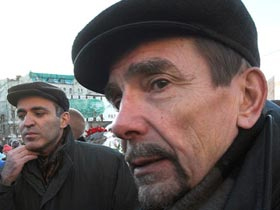 Days after finishing a controversial three-day sentence of administrative arrest, noted rights leader Lev Ponomarev has been sentenced to another four days of administrative arrest by a Moscow city court.
The Tverskoy Court handed down the ruling on September 7, convicting the 69-year-old leader of the organization For Human Rights of insubordination to a police officer. The accusations stemmed from Ponomarev's participation as a co-organizer of an unsanctioned opposition protest dubbed the Day of Wrath, part of a series of demonstrations in which about 300 protesters gathered in Moscow on August 12 to demand the resignation of the Russian federal government and Moscow Mayor Yury Luzhkov. According to police figures, 35 people were detained at the event.
Ponomarev decided to face the court on Tuesday without a lawyer. He denounced the ruling as politically motivated.
As a result of his sentence, Ponomarev told Interfax, he was unable to attend a meeting in Moscow on Wednesday between Russian rights leaders and United States presidential advisor Michael McFaul.
William Burns, the United States under secretary of state for political affairs who attended the meeting, was critical of the ruling. "I should note that it is regrettable that Lev Ponomarev, who was supposed to be at the meeting, was not able to attend," he said in remarks to the Interfax news agency. "The freedom of assembly is very important to the United States and very important for any democratic society."
The Russian bureau of the international human rights organization Amnesty International expressed concern at Tuesday's ruling. "Lev Ponomarev, who was just recently named a prisoner of conscience by Amnesty International, has now received yet another punishment," said bureau chief Sergei Nikitin.
Speaking to Ekho Moskvy radio, Memorial civil rights society chairman Oleg Orlov said that Ponomarev's sentence was part of a disturbing pattern of crackdowns on human rights activists in Russia. "These kinds of sentences are becoming typical. They are repressive actions," he said.
According to Moscow Helsinki Group head Lyudmila Alexeyeva, the Russian authorities are altogether scared of people coming out and protesting in the streets. This, she explained, is what explains "Ponomarev's ridiculous punishment."
The two other Day of Wrath organizers were also convicted of insubordination to an officer back on August 14. Konstantin Kosyakin was sentenced to three days of administrative arrest, and Sergei Udaltsov to four. Ponomarev's court date was postponed after he fell ill in during holding in a police station and, fearing a hypertensive crisis, was hospitalized.