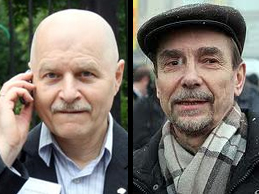 Head of the advocacy organization For Human Rights Lev Ponomarev and Solidarity opposition coalition co-leader Mikhail Shneyder have each been sentenced to three days of administrative arrest following a march in commemoration of Russia's National Flag Day, Kasparov.ru reports.
The two were detained on August 22 in downtown Moscow together with Solidarity co-leader Boris Nemtsov under the pretense that they were attempting to stage an unsanctioned march. While the city authorities had given sanction to the oppositionists to hold a rally, they refused to sanction a march. As Nemtsov noted on his blog on August 20:
Can you imagine such absurdity as that, on Flag Day, demonstrators are banned from carrying the state flag through the streets of the capital?

Is there such a country in the world?

It turns out that there is.

It's called Putin's Russia.
Flag Day is celebrated in Russia to commemorate the decision to return the tricolor as the national symbol in place of the Soviet Red Army flag. The date of August 22 denotes the day that Boris Yeltsin waved a white, blue and red tricolor at a rally following the August 1991 coup d'état attempt against Soviet President Mikhail Gorbachev that, despite failing, hastened the fall of the Soviet Union.
According to RIA Novosti, rally participants gathered on Sunday to mark the holiday as sanctioned, but then proceeded to walk down the street holding a large Russian flag at Nemtsov and Shneyder's behest. The two men were then detained by police; Ponomarev was detained several hours later.
On Tuesday, a Moscow court threw out the case against Nemtsov, which had accused him of insubordination to a police officer. The ruling was made due to lack of evidence from the police. Nemtsov told journalists that the decision "attests to the fact that [I] was detained illegally."
Ponomarev, however, was sentenced on Wednesday to three days of detention on the same charge. Judge Mikhail Pronyakin said that the ruling took into consideration the fact that the 69-year-old rights advocate had previously served time on similar charges, referring to a three-day sentence he received following an unsanctioned demonstration in memory of victims of the Beslan school massacre. A court later ruled that it had been illegal for the authorities to refuse to sanction the demonstration.
Solidarity activists, including Nemtsov, held protests outside of Ponomarev's holding facility on Thursday throughout the day.
Reports came out late on Thursday that Shneyder had also been sentenced to the same term under the same charge.