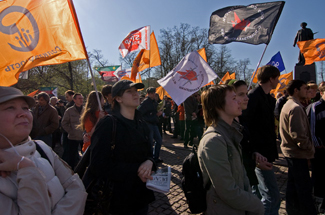 For Russia, 2009 was a year of continued contradictions laced with increased strife throughout Russian society. President Dmitri Medvedev spoke out against corruption and the importance of observing human rights, while oppositionists continued to suffer from unlawful detentions and overwhelming censorship. A series of high-profile incidents of police brutality lead to the most intense scrutiny of Russia's law enforcement agencies in years. The Kremlin's United Russia party swept election after election, while the documentation of fraud was too clear for even the president to deny. Violence in the North Caucasus continued unabated, with numerous human rights workers and opposition politicians kidnapped, shot dead, or both.
It is in this context that the feats of rights advocates and opposition activists can be fully appreciated. 2009 was the first full year of the existence of the Solidarity movement, a coalition of opposition forces that managed to achieve significant prominence in the Russian political sphere since its founding in December 2008. Leaders from the Other Russia coalition held a nationwide series of protests in defense of the constitutional right to freedom of assembly, which they held despite being unequivocally denied sanction from authorities. Novorossiysk Police Major Aleksei Dymovsky shocked the nation when he released two YouTube videos detailing widespread corruption throughout the police force, and has set out on a one-man campaign to reform Russia's law enforcement agencies. Despite heavy censorship and brutal repression, oppositionists and human rights advocates continued to fight against the unhindered violence and tired series of false promises from the heads of Russia's authoritarian regime.
The editors at theOtherRussia.org have compiled a review of notable events in Russia from over the past year.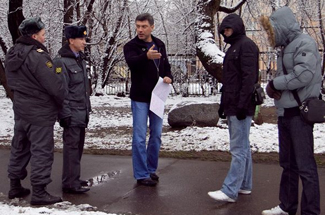 Political Repression
• January 28: Russian Teacher Fired For Protesting
Yekaterina Bunicheva, a history teacher in the Russian city of Nizhny Novgorod, was arrested and sentenced to five days of administrative arrest after attempting to enter a pro-government rally with a banner reading "Enough of Putin." School officials then allegedly pressured Bunicheva to resign, threatening to strip her ability to teach at all if she refused.
• March 11: Russian Voters Defrauded With Disappearing Ink
After regional parliamentary elections throughout Russia, electoral monitors brought forth claims that voters in the city of Volgograd had been given pens filled with disappearing ink to cast their ballots with. The Russian Central Electoral Commission said in response that using such ink did not formally violate any laws. The pro-Kremlin United Russia party overwhelmingly swept the elections despite these and other violations.
• April 27: Sochi Election Results Called Into Question
Exit polls indicated a serious disparity between the official results of the mayoral election in the city of Sochi and the number of voters who claimed they had voted for opposition candidate Boris Nemtsov. Official figures give United Russia candidate Anatoly Pakhomov 76.86 percent of the vote, while only 46 percent of voters in the exit polls indicated they had voted for him – a number that would have triggered a run-off election.
• October 11: Rampant Fraud Plagues Regional Elections
Blatant fraud was documented in a set of regional elections throughout the country in October, in which United Russia once again was awarded overwhelming wins. The accusations of fraud were obvious enough that President Dmitri Medvedev admitted that the elections were "not sterile," but refused to annul them regardless.