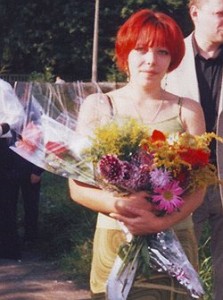 School officials in the Russian city of Nizhny Novgorod are pressuring a local history teacher to either resign or be fired, after the educator was arrested at a recent political demonstration.  Yekaterina Bunicheva had tried to walk into a rally of the pro-government United Russia party with a banner reading "Enough of Putin," the Kommersant newspaper reports.  She was ultimately sentenced to 5 days administrative arrest for the prank.
Bunicheva was arrested with two other activists on January 28th as they tried to join a demonstration in support of government measures to boost the domestic auto industry, sponsored by the United Russia party.  Police confiscated a banner reading "Enough of Putin," from the protestors, who then allegedly refused to show their documents and cursed at the militsiya officers.  The Kavasinsky district court then sentenced all three to five days arrest.
Vladimir Ushakov, the school principal, was incensed that Bunicheva missed school during her arrest.  Ushakov, a member of United Russia, told Kommersant "not to look for any political underpinning in the matter."  He said he was obligated to remove Bunicheva from the classroom, and as result reduce Bunicheva's pay to 5-6 thousand rubles (around $150 or €120) per month.  The teacher spends part of her time on additional administrative duties.
Bunicheva herself described a different version of events.  When she returned to work, she says the principal suggested that she write a letter of voluntary termination of service.
"In case I refused," Bunicheva said, "the school's administration would supposedly make use of articles in the labor code on the 'non-conformity to the status of an educator.'  This would strip me of the opportunity to teach at all."  Labor attorney Anna Gvozdichkina clarified for Kommersant that no such articles exists in the labor code.  Teachers may be fired for several special reasons, she explained, including physical or emotional abuse of a student or the repeated gross violation of an institution's by-law.  In Bunicheva's case, the school does not appear to have the grounds to fire her.
Bunicheva is convinced the move was politically motivated and that her political principles were the reason.  "They suggested I join United Russia in 2005," she said, "when I came to work at the school, but I refused, explaining that I hold different political views."
The local school board and the Ministry of Education and Science declined to comment.
The Nizhny Novgorod branch of the Other Russia opposition coalition has begun collecting signatures in support of Bunicheva.
The teacher's case is reminiscent of another scandal from late January, when police pressed several Universities to expel students who had attended opposition demonstrations.  After human rights activists stepped in and publicized the case, Moscow's Central Internal Affairs Directorate (GUVD) pledged to investigate and reveal who had sent the letters within a month.