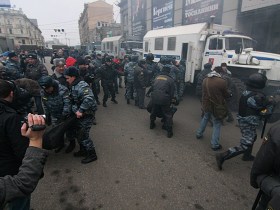 Moscow police are pressing one Russian university to take action against students who protested against the government.  Yaroslav Kuzminov, the provost of the Higher School of Economics, received a shocking letter from the Moscow's Central Internal Affairs Directorate (GUVD).  The letter, in part, told the provost that some of the State University's students had been arrested at a recent opposition demonstration, encouraging him to "think about the use of further education for them."  Valeriya Kasamara, a vice dean at the state university, described the letter on a broadcast of the Ekho Moskvy radio station.
She said the letter named several students who were arrested on December 14th at an opposition protest known as a March of Dissent.  The document noted that conducting unsanctioned mass protest "is one form of extremism, has a high degree of social danger, and necessitates that law enforcement agencies respond with adequate measures."  Organizers of the March of Dissent had tried to receive permission for the demonstration, but Moscow city officials had refused to sanction it.
The letter then asks the provost to "look at the issue of removing the conditions which allow wrong-doing to happen," implying that the students should be expelled from the University.
Kasamara said the students were detained as they left the Mayakovskaya metro station before they arrived to the demonstration.  She underscored that the University was not planning on punishing the students, and said that no measures would be taken against them.
A total of six students studying political science and economics were arrested, according to rector Kuzminov's press secretary, Olga Kolesnikova.  The students were asked to report what happened and write up an explanation to the University.
Kolesnikova made it clear that no students would be expelled.  "We can dismiss students if they are underachievers," she told the Yezhednevny Zhurnal online newspaper.  "But if they study well, what right do we have to expel them?  They are not criminal offenders, why should we forbid them from studying?  In a word, we won't let anyone get at our children."