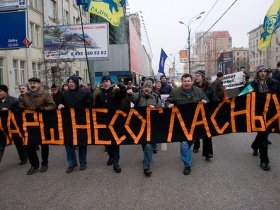 Moscow police and riot forces were out in full force Sunday, arresting anyone who showed up to take part in an opposition demonstration known as a March of Dissent. Hundreds of officers lined the Triumfalnaya Ploschad (Triumph square), the planned meeting point of the demonstration, and violently seized anyone who came close.
In total, around 90 people were arrested around the city, according to the Moscow police press-service. Eduard Limonov, a leader of the banned National Bolshevik Party and the Other Russia, was among those detained.
The event was orchestrated by the Other Russia opposition coalition. Organizers of the protest said they had done everything to obtain permits for the event, but were rebuffed by city officials.
Small groups of demonstrators managed to stage marches in other parts of the city. Around 150 people bearing banners and flags walked for around a kilometers from the Paveletsky Rail Terminal to the Serpukhovskaya Ploschad.
A police spokesman described the protest as "isolated attempts at hooliganism, which law enforcement officers suppressed in time."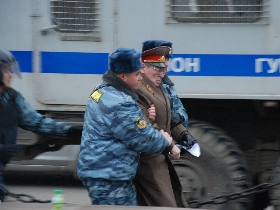 A group of retired generals, who came out to march in the demonstration, were also violently dispersed by OMON special forces. The generals were thrown roughly into waiting police trucks.
The latest reports by the Sobkor®ru news agency indicate that court proceedings have been started against the arrested protestors.