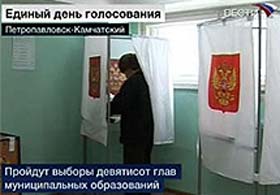 Hardly a week after Russia held regional parliamentary elections on March 1st, electoral monitors are bringing forth the sneakiest scandal to strike the country's electoral system.  As the Gazeta.ru online newspaper reports Tuesday (Rus) the alleged fraud involves something most commonly found in a practical joke catalog.  Just Russia, a minority political party, claims that voters were given pens filled with disappearing ink, with the result that any vote recorded would simply fade off the ballot.  Blank ballots are considered invalid under Russian law.
Nikolai Levichev, who leads the Just Russia fraction in the State Duma, said his party's observers noticed the faulty pens in 6 polling places in the southern city of Volgograd.  Levichev showed journalists videotape from one polling center that seemed to back his assertion.
In the video, an older pensioner fumbles near the ballot box, suddenly noticing that her ballot selection has disappeared, leaving her with a blank slip.
The pensioner turns to an incredulous election worker, who uses a pen from the ballot booth to write "I don't believe you," on the ballot.  Several minutes later, the phrase fades from sight, much to the surprise of astonished onlookers.
A ballot count later found 285 invalid slips at the polling place, most of them blank.  A recount, conducted upon request from a local candidate from the pro-Kremlin United Russia party, was even more shocking.  Conducted on March 8th, the recount found an extra 206 votes for the United Russia party.  Levichev asserts that ballots that were initially blank now had "writing and graphical representations made with the same handwriting."  In such a way, United Russia may have been trying to make a safety net and ensure that it received a certain percent of votes in the election, Levichev said.
Just Russia is not the first party to assert that disappearing ink was used in the recent elections.  The two other parties in Parliament, the Russian Communist Party (CPRF) and the Liberal Democratic Party (LDPR), expressed identical concerns.  "Our observers recorded similar violations in tens of polling stations in the [Volgograd] oblast," said Sergei Ivanov, an LDPR deputy.
Russia's Central Electoral Commission (CEC), which oversees elections, said that using invisible ink did not formally violate any laws, suggesting that the tactic was a sort of loophole.  As of yet, the Commission had not formally looked into the allegations.
CEC member Igor Borisov told Gazeta.ru that electoral law dictates that polling stations must contain a pen, but that the law does not define what the composition of the ink must be.
"Although truth be told, we understand a pen to be a means of writing, whose mark does not rub off," he clarified.  "That is to say, for instance, it can't be a pencil."
Just Russia says it will consider all its options in the near future, and that it is prepared to take the matter to court.  They're probably hoping the case won't simply disappear.