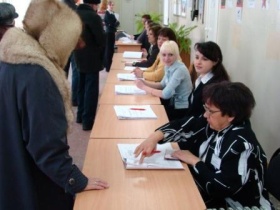 There were little surprises Sunday during Russia's regional elections, as the pro-Kremlin United Russia party won handily.  The party maintained a majority in regions holding parliamentary elections, even as other parties complained of widespread violations.
Yet as the GOLOS voter rights group reported in a press-conference Tuesday, the election results indicated that the party of power was losing ground.  Alexander Kynev, a political scientist with GOLOS, interpreted the results:
"These elections showed that the authorities could be defeated, that they could be fought," he said.  Appraising the election, Kynev noted that the party of power "lost everywhere there was someone to lose to, where the opposition had even a small will to win."  Kynev connected this with growing discontent in the regions.  In the expert's opinion, United Russia's figures would be even lower if their opponents acted more decisively and professionally.  In addition, the government's "lullaby" statements that the crisis would end quickly were slowing the public's growing disposition to protest, he said.
Kynev said that the elections had a markedly low turnout, and the lowest level of competition since Russia instituted a proportional electoral system.  In many regions, he added, real competition was only present in smaller municipal elections, where United Russia did not consistently win.  Several overturns in mayoral elections, which have directly elected candidates, also indicated that public protest was rising, the expert said.
Andrei Buzin, an electoral law expert, said the most widespread violation during the contest was the removal of electoral monitors and reporters from polling places.  In some cases, observers were physically removed from their locations, and barred from overseeing the vote.  Voter coercion by local authorities was also frequently reported, Buzin said.
March 1st marked the single voting day for regional and municipal parliaments, mayors and other local offices in a total of 79 Russian regions.