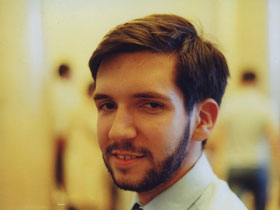 A group of opposition activists, detained by police on May 6th, remain imprisoned in Russia. The group includes Oleg Kozlovsky, the leader of the Oborona (Defense) Movement, an anti-Kremlin group perpetually hounded by authorities.
The activists were on their way to an opposition protest in Moscow called a "March of Dissent." City officials had refused to sanction the event, and had brought in an army of riot police in anticipation of the March. As result, organizers cancelled the demonstration at the last minute for fear of the safety of participants. But many participants were already on their way, and were arrested as they approached the scene, or tried to stage smaller demonstrations.
Of the 60 or so demonstrators who were arrested in Moscow, some 20 were doled out administrative arrests ranging form 3 to 13 days.
Oleg Kozlovsky was one of those arrested, and was quickly sentenced to 13 days of lockup by Moscow's Basmanny Court. He was charged with failure to obey militsiya officers as he walked toward the planned gathering spot. The activist himself said the arrest was an attempt to keep him from taking part in the National Assembly, an alternate parliament organized by the opposition. The Assembly's first session is scheduled for May 17th and 18th.
Kozlovsky has been a frequent target of arrest and harassment by authorities. In December 2007, he was stopped outside his home and subsequently conscripted into the army. The opposition leader had completed a reserve training course during his studies at the Moscow State University, and was exempt from further military service. Still, he was transferred to a military unit and enlisted. He was only demobilized on March 4th, after a long campaign by relatives and human rights activists to prove his exemption from service.
Kozlovsky is currently being held in temporary detention in Moscow. He has appealed his arrest, and will go before new court on May 12th.
—
For up-to-date information on Oleg Kozlovsky, visit his English-language Blog (ENG)