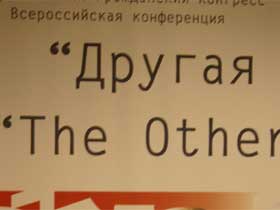 The Other Russia opposition coalition has begun work on convening and conducting its National Assembly. The coalition's press-service announced that the group was extending an open call to civil organizations, movements, parties and political activists.
The statement explained the mission of the National Assembly: to facilitate dialogue on the most relevant problems facing Russia's development strategy, and to determine a national agenda by bringing together representatives of diverse social forces, including those with opposite interests. "When the chairman of the State Duma ([Boris Gryzlov]) is convinced that 'the Parliament is not a place for political discussion,' it is the duty of the Russian civil society to create a structure which compensates for this deficiency," the statement reads.
The Other Russia also announced that it was prepared to support initiatives on consolidating the opposition from both the right and left wings, in order to achieve the widest possible representation of Russia's whole political spectrum. The coalition invited representatives of all political parties and NGOs to take part in the National Assembly steering committee.
A conference of the liberal-democratic and leftist opposition is scheduled for April 5th in St. Petersburg and April 6th in Moscow. The Other Russia's Executive Committee called on the participants of both forums to take up the formation of the National Assembly and to lead its first session at the end of April 2008.