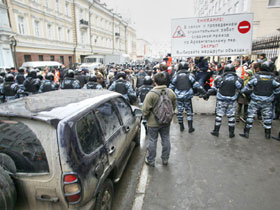 Organizers of a Moscow opposition demonstration known as a March of Dissent have cancelled the protest at the last minute. As the Sobkor®ru news agency reports, organizers are concerned for the safety of demonstrators, after city officials refused to sanction the gathering.
Denis Bilunov, the executive director of the United Civil Front party, was at the Chistye Prudy metro station, near the rally's planned gathering spot, telling activists to leave the area. Speaking with a Sobkor®ru reporter, he said that the unlawful rejection of the demonstration by Moscow officials would be challenged in court.
Hundreds of riot police and militsiya troops were already at the scene well before the planned start of the March. Eye-witnesses said that most of the expected route, including the Slavyanskaya Ploschad (Slavonic Square) and the Chistoprudny Boulevard, were already surrounded by police and blocked off.
Reports are also coming in that activists were being arrested on their way to the location. According to initial counts, at least 50 people were arrested as they walked in small groups toward the assembly point.
Earlier in the day, The Other Russia press-service reported that they had received information suggesting two of the coalition's leaders, Garry Kasparov and Eduard Limonov, would be arrested at the protest. The pair decided not take part in the event, for fear that they would be behind bars during May 17th and 18th meetings of the National Assembly, an alternative parliament organized by the opposition.
Organizers of the March of Dissent had attempted to negotiate with city officials until the last minute. The Other Russia press-service reported that there was no response from City Hall to the conclusions of a May 5th round-table between opposition leaders and local law enforcement. Participants of the round-table reached a compromise to limit the March of Dissent to a rally at one set location, and were waiting for the mayor to approve the deal.
The opposition initially filed paperwork for the demonstration on April 21st. City Hall responded 8 days later, rejecting the proposed gathering without providing any alternate routes.
Demonstrators were planning to protest the inauguration of President-elect Dmitri Medvedev, which will take place on May 7th 2008.