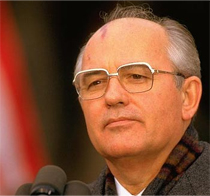 Former Soviet President Mikhail Gorbachev says that while Prime Minister Vladimir Putin's decision to run for a third term as president does not formally violate the Russian constitution, it does not correspond with the concept of democracy itself. He also believes that Russia is far from reaching a stage of developed democracy, BBC's Russia service reports.
According to Gorbachev, "I, for example, feel that after Putin went through two terms as president and now another term as prime minister that, I think, this story of a duumvirate, while it meets constitutional requirements, nevertheless essentially discredits democratic principles."
In the former president's opinion, the development of democracy in Russia is impossible while the people in charge of the country are not its actual leaders and do not defend the people's interests.
Gorbachev believes that Russia's leader should respect the rights of the people instead of the rights of "corporations."
He also expressed doubt that upcoming parliamentary elections would be free and fair. Gorbachev labeled the ruling regime as "authoritarian" and said that the country can expect to have "to seriously fight for the rehabilitation of democratic principles, fair elections, and independent courts."
He also said that voters should use the forthcoming elections as an opportunity to speak out against the current regime by voting against United Russia.
As the BBC also pointed out, other world leaders are less than thrilled at the idea of Putin taking up a third term as Russian president. Former US Secretary of State Condoleezza Rice said that Putin's decision "makes a bit of a mockery of the electoral process" and was "unfortunate."
Putin's press secretary, Dmitri Peskov, called Rice's remarks "disrespectful."