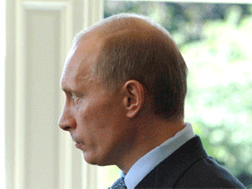 In a move predicted by many and feared by more, Russian Prime Minister Vladimir Putin has announced his intent to run for a third term as president in March 2012 elections, RIA Novosti reports.
The announcement came on Saturday during the second day of a congress of Putin's United Russia party and was received by a standing ovation by the 11,000 members present.
He added that current President Dmitri Medvedev "can create an effective management team as the head of the Russian government," meaning that he would name Medvedev as prime minister during his own presidency.
Analysts have clashed over which member of Russia's ruling tandem would run in the upcoming elections since the day Medvedev was elected. All but confirming the long-held belief of many Kremlin critics that Medvedev was doing little more than keeping the seat warm for Putin to return to office four years later, Putin made clear that "an agreement over what to do in the future was reached between us several years ago."
Russian law only allows the same person to be president for two consecutive terms, but also allows that person to run again after a "hiatus" period. As Radio Free Europe/Radio Liberty points out:
Putin's victory in March is a virtual certainty, given both his popularity and Russia's tightly controlled political system. It would set the stage for him to serve two six year terms, which would keep him in the Kremlin until 2024, meaning he could end up running the country longer than Soviet leader Leonid Brezhnev, whose 18-year rule became synonymous with socioeconomic decay.
Analysts are also split as to whether Putin and Medvedev differ in regards to policy, as opposed to fronting mere cosmetic or other orchestrated differences to lend the regime a veneer of legitimacy. Nevertheless, Medvedev had garnered a number of loyal supporters over the years and they were none too pleased with what Gleb Pavlovsky of the Foundation for Effective Policy called "Medvedev's political capitulation." As the New York Times puts it:
One of Mr. Medvedev's closest aides, Arkady V. Dvorkovich, vented via Twitter during the United Russia event, remarking, first, "there is no reason for happiness," and then "now it is time to switch to the sports channel." The influential political consultant Gleb O. Pavlovsky, whose longstanding contract with the Kremlin was severed this spring, gave one of the sharpest comments.

"The fact that the president, as a politician, betrayed those who believed in him — that is political self-annihilation, and he has the right to do it," Mr. Pavlovsky said. He called the move "a blow to the prestige of the institution of the presidency in Russia."
Several politicians and analysts gave their takes on the announcement to Gazeta.ru.
Gleb Pavlovsky, head of the Foundation for Effective Policy
"This is Medvedev's political capitulation. It's possible that it was voluntary and possible that it wasn't. It's unclear what sort of pressure we've hit up against here. But there's a unique fact: the post of the president of a nuclear power is being transferred by private dealings. We have no reason to believe that Medvedev was lying when he said he was ready to run for president. It's possible that his position changed due to the influence of a certain factor.
"If he's a real politician, he needs to explain why he made this decision and why he felt that his own presidency was unsuccessful. If not, then it's unclear what he's doing at the head of United Russia's candidate list."
Sergei Mironov, leader of A Just Russia
"All these years, we have had serious problems with the work of the government. And bigger ones with the United Russia party… We maintain our previous positions: our party will not support the candidate forwarded by United Russia. And so we're in no rush. Let our opponents rush… in regards to the fact that Medvedev is heading the Duma list – watch the video footage of the faces of the United Russia members and see if they look happy about it or not."
Aleksei Malashenko, member of the Carnegie Moscow Center
"When this decision was definitively made is already meaningless, but it seems to me that it happened not at all long ago, after the forum in Yaroslavl. Everything came to that, although there were still grounds for speculation. What became definitively clear was that our political life is a swamp. And the US and the European Union have already looked to Putin to gauge things for a long time. The most interesting thing now, the only intrigue, is who's going to become prime minister. There isn't 100% certainty that the decision for it to be Medvedev is definitive. There's expectation of pension system reform and a high rise in taxes. And it's the prime minister who gets the most flack."
Boris Nemtsov, co-leader of the unregistered People's Freedom Party
"Putin is a pure provocateur: he is provoking the Russian people to a revolt.
He is provoking the Russian people with his irremovability, provoking the Russian people to come out into the streets and begin to act like they do in countries where the institution of the turnover of government has been destroyed. After a month, the Central Bank will announce how much money has disappeared. Trust me, I am rarely mistaken: $100 billion. That's my analysis – $100 billion and the emigration of 500-800 thousand people.
"The country is going to experience a certain amount of sluggish development, but this is very bad… Unhappy Russia: Putin is back until his death. I don't know how long he's going to live. Either Russia will die first or Putin will – I don't know. I'd prefer all the same that Russia remained.