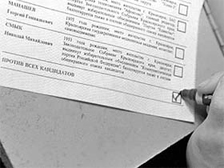 A group of Russian oppositionists who have been effectively barred from participating in upcoming parliamentary elections – and the public figures who support them – are calling for Russians to "vote against everyone," Kommersant reports.
The new movement, which is called Vote Against Them All, will ask Russians to come to the polls and put a big cross over their ballots on voting day for State Duma deputies on December 4. The goal: to have at least seven percent of the total votes cast be marked in this manner, thus crossing the threshold necessary for a party to gain seats in the Duma.
At the head of Vote Against Them All is Boris Nemtsov, former deputy prime minister and coleader of the unsuccessfully registered People's Freedom Party. Other members include writer Dmitri Bykov, satirist Viktor Shenderovich, leading environmental activist Yevgenia Chirikova, lawyer Vadim Prokhorov, and journalists Pavel Sheremet, Olga Romanova, and Vladimir Korsunsky.
As was discussed during the group's recent three-hour meeting, the campaign will ask Russian citizens "not to sit at home, go to the voting stations, cross out their ballots and write something like 'down with the swindlers and theives.'" Given that many oppositionists are on an unofficial black list that bars them from being shown on television, the movement is limited to distributing pamplets, posting materials on the internet, and holding demonstrations to spread their message.
Elections in Russia are notoriously corrupt. Despite its falling popularity, Prime Minister Vladimir Putin's United Russia party routinely sweeps regional, federal, and local elections amidst widespread accusations of fraud from both Russian and international watchdog groups. Opposition parties are routinely denied the right to officially register, thus effectively banning them from fielding candidates. Frequent rhetoric from officials about reforming the system has generally come to naught.