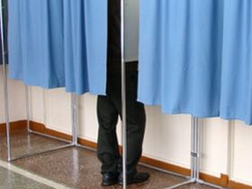 The head of the Moscow Electoral Commission has proposed scrapping the country's electoral legislation in order "to start over from scratch," Ekho Moskvy radio reported on Thursday.
Chairman Valentin Gorbunov made the statement during a session of the electoral commission, saying that it would be worth considering creating an electoral code for the Russian Federation.
Gorbunov explained that while numerous amendments were being introduced to Russia's current electoral legislation, the system was so flawed that any such amendments would only be band-aids to more systematic problems.
"You can't get a Mercedes from a Moskvich," explained Gorbunov, referencing Russia's legendarily faulty line of domestic cars. "In order to get a Mercedes, you need to build it from scratch."
Elections in Russia are notoriously fraudulent. Regional elections on October 11 delivered sweeping wins for the Kremlin-backed United Russia party across the country, continuing the political monopoly it has held since its conception in 2001. Observers noted massive electoral violations, much of which has been statistically documented. President Dmitri Medvedev himself admitted on multiple occasions that the elections were flawed. A recent poll by the Russian Public Opinion Research Center concluded that less than half of Muscovites trust the results of the elections.
Recent attempts at reforming Russia's electoral legislation have largely fallen short. Negotiations in the State Duma to create an internal electoral monitoring committee died after two months, and statements by President Medvedev in November that the system was in need of reform have thus far garnered no tangible results.