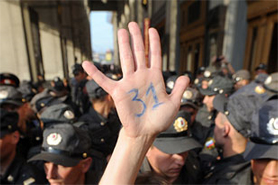 For the past two years, the Strategy 31 campaign in defense of free assembly has been the Russian opposition's most widespread, longest-lasting, and most popularly attended protest movement. Government authorities in Moscow, where main protests are held, routinely refused to sanction the rallies. After co-organizer and leading human rights activist Lyudmila Alexeyeva negotiated a deal with government officials to sanction a rally for only 800 participants last October, the movement began to split apart. Oppositionist activists who maintain the constitutional right to protest in whatever numbers they'd like continue to hold unsanctioned protests on Moscow's Triumfalnaya Square, and police continue to arrest them. Last month, the conglomerate of human rights activists who joined Alexeyeva in her sanctioned rallies over the past several months chose to stop holding them altogether.
Opposition activists in Moscow, however, have not abandoned the movement. On Monday, the Strategy 31 organization committee told Kasparov.ru that their upcoming protest on July 31 will take the form of a sit-in.
The group said that, in order to more effectively hold a peaceful protest in defense of the constitution, protesters will be asked to sit on the ground and form a human chain around Triumfalnaya Square.
Per tradition, Strategy 31 rallies are held on the 31st date of the month in dozens of cities throughout Russia in honor of the 31st article of the Russian constitution, which guarantees freedom of assembly. Solidarity rallies are also held around the world in New York, London, Rome, Tel Aviv, Toronto, and other cities.