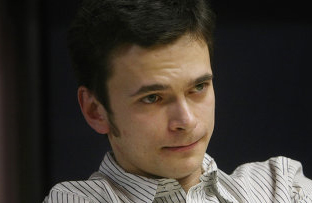 After a week's worth of circus-like courtroom antics, Moscow's Tverskoy Regional Court on Friday upheld a ruling that had sentenced oppositionist Ilya Yashin to five days in jail following a December 31 rally, Kasparov.ru reports.
One of Yashin's fellow oppositionists from the Solidarity movement, Mikhail Maglov, was in the courtroom when the verdict was read. He told Kasparov.ru that Judge Svetlana Ukhnaleva saw no reason not to believe police officers' testimony that Yashin violated the law.
At the same time, said Maglov, the judge chose to ignore the testimony of Police Sergeant Artem Charukhin, who told the court last week that he had falsified a police report about Yashin. She chose to ignore it because "he did not feel well in court and his testimony contradicts other evidence," Maglov said. The judge did accept his police report – the same one Charukhin said he falsified, before later recanting – as legitimate evidence, since "it was drafted directly after [Yashin's] detention and corresponds with other evidence," said Maglov.
The judge did not take into account evidence from witnesses for the defense, alleging bias, and also ignored video evidence showing that Yashin did not resist police when he was detained – the charge he was convicted of. According to Maglov, the judge said the video was dark since it was filmed at night and that it was impossible to see what was going on.
Maglov told Kasparov.ru that Yashin planned to appeal the decision in Moscow City Court and also file a complaint with the European Court of Human Rights.
On his blog, Yashin described the court session on Thursday that preceded Friday's verdict as Kafkaesque: "It has already become banal to compare Russian courts with Kafka's The Trial. But it's hard to pick a different comparison – it was a disgraceful tragicomedy with elements of blatant insanity and mockery of common sense." His entire account of the trial's final hearing can be read in Russian here.
Awkwardly, after Friday's verdict was announced, Sergeant Charukhin was found in a police car outside the court, having apparentlk slept through the entire reading (click here for video).