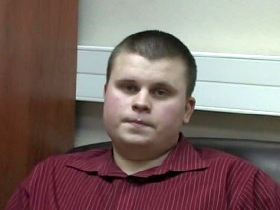 A scandal is developing around Moscow Police Sergeant Artem Charukhin, who has switched stories once again in regards to an appellate case filed by Moscow oppositionist Ilya Yashin.
Last Friday, Charukhin admitted in court that he had falsified a police report that was used as evidence to convict Yashin to five days in jail following a December 31 rally in Moscow. Then, according to Kasparov.ru, Moscow City Police Spokesman Viktor Biryukov announced on Tuesday that Charukhin was being fired for making contradictory statements in court that raised doubt among his colleagues, and for avoiding his superiors. In response, Yashin's opposition movement, Solidarity, offered Charukhin legal counsel to defend his labor rights. That same day, Anton Tsvetkov, a member of the Public Council on the Moscow City Police and representative of the foundation Officers of Russia, said it was possible that Yashin could have been paid off to change his testimony. It was unclear who he meant would have done the paying off. He did, however, accuse oppositionists in general of only holding unsanctioned rallies only to create photo opportunities.
Now, Kasparov.ru is reporting that Charukhin has changed his testimony yet again. On Wednesday, a video clip of Charukhin being interviewed by an unknown woman was posted on the website of Moscow's police headquarters at Petrovka 38. The interviewer poses a series of (mostly leading) questions in which the officer claims he only recanted in the first place because of pressure from Yashin and his lawyer.
In the video, Charukhin says he was very worried prior to Friday's court session. Once in court, he says, Yashin began to ask him whether or not he believed in God, showed him quotes from the Bible "not to bear false witness," and showed him the part of the Russian Criminal Code that punishes false testimony. Charukhin says Yashin and his lawyer both asked him questions, none of which he understood and saw as "sneaky tricks." In result, he became distressed, ceased to understand the essence of the questions, and, as the interviewer puts it, began to say "whatever came into my head."
Charukhin says he "did not say what I was thinking" in court.
After court, the officer went on, he began getting phone calls from the BBC and Citi-FM radio asking him to read a statement they had written for him on the air. This statement would claim he actually didn't work at all on December 31, was not on Triumfalnaya Square that night and did not participate in Yashin's detention at all. Charukhin says he refused the requests.
In addition to the video, the Petrovka 38 website also posted a scan of a new report signed by Charukhin, in which he states the same claims as in the video. Anticipating the obvious, the police added a statement saying that Charukhin filed this new report, which is dated February 8, 2011, before it was announced that he was being fired – thus removing the possibility that the new statement was written under pressure.
To make things even more complicated, Moscow Police Chief Vladimir Kolokoltsev told Ekho Moskvy on February 9 that Charukhin hadn't been fired at all: "I didn't fire him." Kolokoltsev said he was looking further into the matter.
Regardless of Charukhin's testimony, it remains apparent that the charge that Yashin was convicted of – pushing police officers away from fellow oppositionist Boris Nemtsov – was impossible, given video evidence reviewed in court on Friday indicating that Yashin was arrested before Nemtsov was.
The trial resumes on February 10. On his blog, Yashin says he has proof of Charukhin's claim that a superior officer had dictated his falsified police report. He intends to present this proof in court.